It seems sometimes that nearly every new cruise ship built has some kind of Aqua Park or slide located on its top deck, often referred to in the cruising world as the "lido deck" but are these actually something which people look at when booking a cruise?
Or…
Are they instead big, bold and brash white elephant's which no one really cares about?
The trend seemed to start when cruise lines realised that rather than having one large pool it was actually cheaper to have several smaller pools with waterslides attached.
Swimming pools on cruise ships are expensive pieces of kit with fresh water costing between $2 – $4 per ton, so filling up the pools isn't cheap!
Also, crucially, water weighs about one ton per cubic metre, which is fairly heavy; so having four-five hundred tons of water sloshing about on the Lido deck could be dangerous as it can make the ship unstable and top heavy in certain circumstances (this is why you'll often see the pools being emptied in bad weather conditions).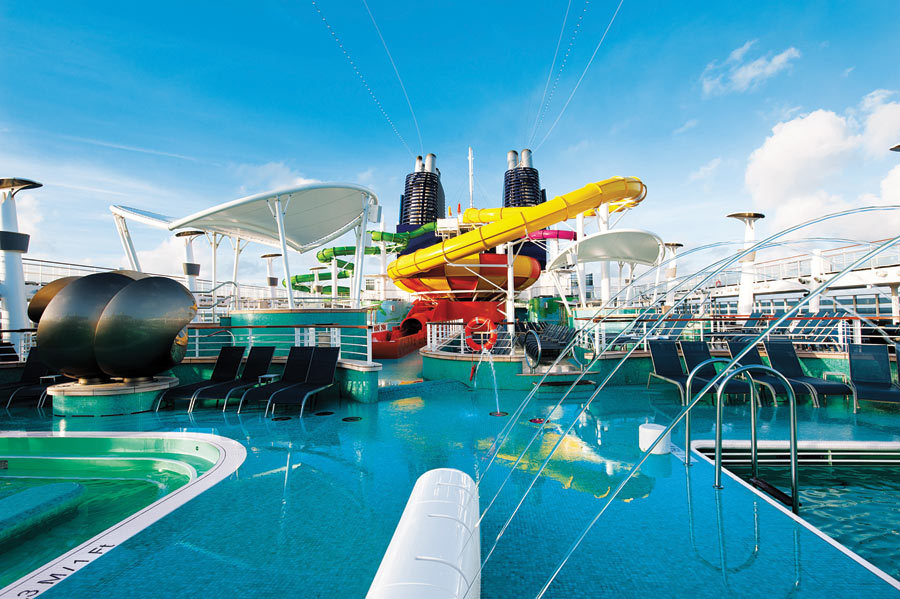 The obvious answer seemed to be to fill these spaces with waterslides, as in comparison these are much lighter and cheaper than swimming pools!
Norwegian Cruise Lines, Carnival, Disney, MSC and Royal Caribbean all boast to have either the best rated, longest or quickest waterslides at sea (the MSC Preziosa actually boasts the longest waterslide at sea, reaching 120 meters long!).
 Some may just call them novelty features (some more traditional cruisers may even call them horrible) but there does actually seem to be some truth that these waterslides are turning into tactical chess pieces, with cruise lines marketing their ships out to the family market.
Aqua Park's containing water shoots, fountains and paddling area's will obviously appeal to families with small children more than large, deep and unguarded swimming pools do.
A parents first thoughts will always be the safety of their child so shallower play area's make sense on your family orientated ships in ways far beyond a simple cost cutting measure.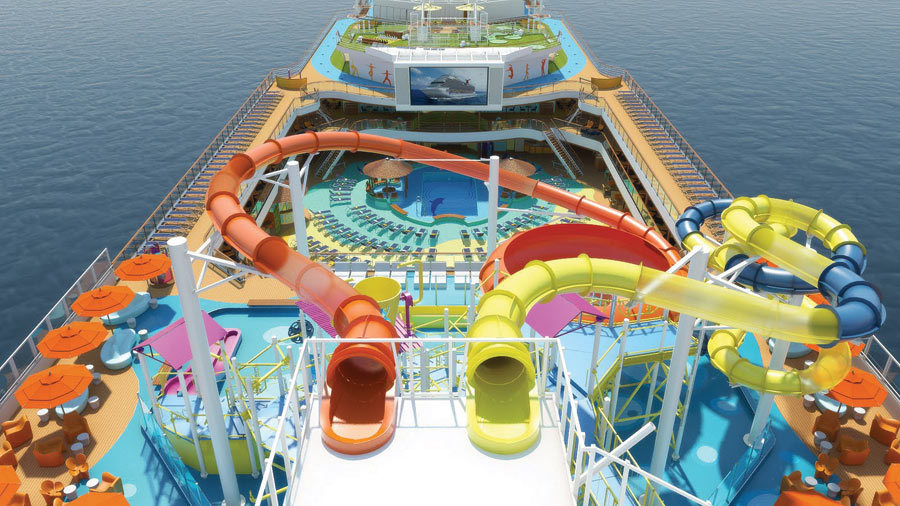 Strangely many cruise ship water parks are now actually starting to rival with the dedicated land water parks in terms of facilities!
For example Alton Towers Splash Landings and Water World in Stoke on Trent operate similar slides and Aqua Zones to the ones on board cruise ships! It has nine slides and Splash Landings has ten slides. When we compare this to the Norwegian Breakaway with its five slides you can quickly see how much cruise lines are investing in this concept!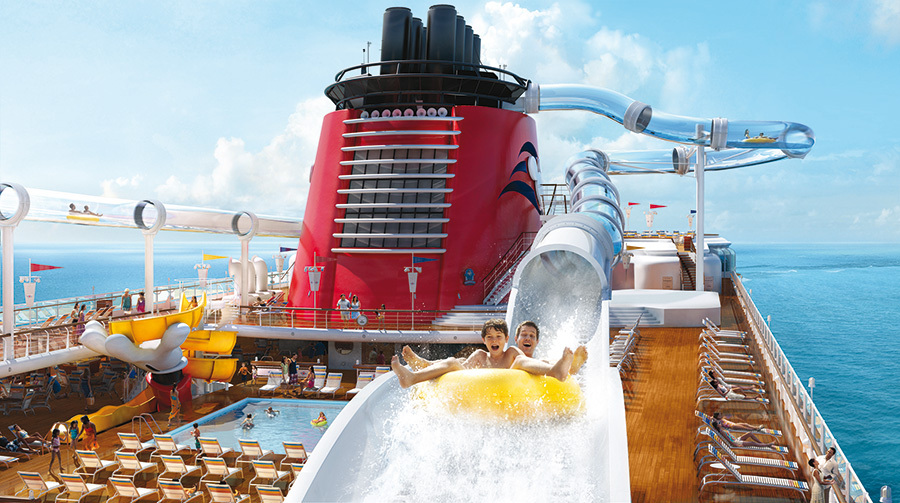 We're not sure what the future may hold for swimming pools and slides on-board but what started out as a way to save filling large swimming's pools with expensive water really seems to have captured cruisers imaginations.
Not only do most people think they're fun and exciting; they really do offer an attraction for all ages!
As these ships increase in popularity we're sure they'll get bigger and quicker in future years as the cruise lines try to outdo each other.
How do you think the floating water parks compare to their land based cousins?
Would you considering going on a specific ship or cruise line just because of the slides and water parks available or would you go down the opposite tack and actually avoid these ships because of them?