With so many different fleets, liners and destinations to choose from, picking a cruise that best suits your wants and needs can be a tough ask but ultimately the choice you make will be a completely personal one – after all, your cruising experience should be all about you!
Whatever you pick however will probably be on an English or American cruise line and two of the major contenders in this category are P&O and Carnival.
One pretty much epitomises British cruising whilst the other showcases everything American.
So, if pitted against each other in a cruise liner deathmatch, who would come out on top?
P&O and its quintessentially British values or Carnival, with its jazzed-up American, fun-orientated vibe?
www.CRUISE.co.uk puts the 'special relationship' to the test and compares British with American in the battle that spans the Atlantic – round 1, ding ding, fight!
(Please no comments on the fact that the referee is also British!)

Round One – Dining
Cruises offer up a multitude of opportunities for diners to try various cuisines from all over the world – they're a great holiday choice for foodies.
The P&O Food Heroes concept introduces some of the finest British chefs to international cruising, with household names like James Martin (the face of Saturday Morning Kitchen) and the ever fiery Marco Pierre White.
(Don't worry – It's only chef's he's mean to –He's lovely to the guests!)
There's also an expert British sommelier, Olly Smith, who can be found in The Glass House on both Azura and Ventura cruises – plus, as a nation of curry lovers, guests will also appreciate the addition of Michelin-starred Indian cuisine chef Atul Kochhar. 
These aren't your ordinary curries though! These are Michelin starred, Indian fusion of the highest order for a fraction of the price of his London restaurants!
Tipping their hat to the British way, P&O also offers the traditional afternoon tea to its guests, complete with savoury finger sandwiches and sweet treats, as well as a contemporary champagne afternoon tea with sumptuous fairy-story-esque delights dreamt up by London-based pâtissier, Eric Lanlard – something that Carnival can only wish to match!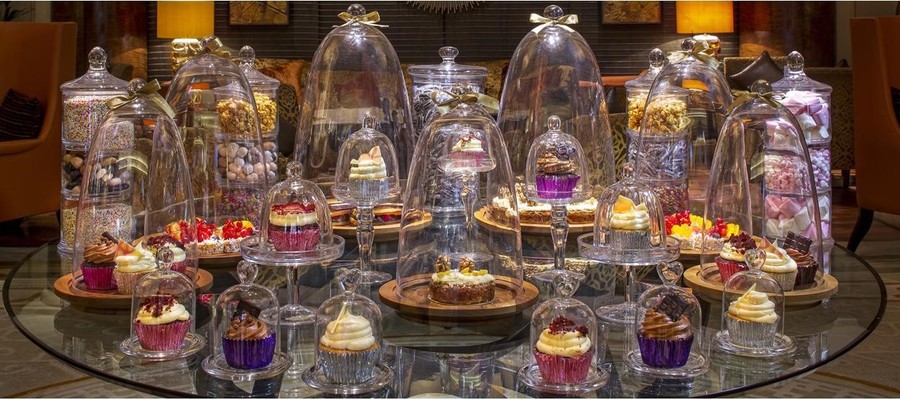 An area in which Carnival do reign supreme however is the variety of restaurants, bars, grills and cafes that can be found onboard their ships.
Many of their eateries are named after famous artists (Renoir, Monet, Cezanne) and rightly so, considering most of the meals they dish up are masterpieces of American cuisine.
Whether you're looking for something from the BBQ grille or some mouth-watering meaty favourites from the chic Point Steakhouse, Carnival has your dining desires covered.
The fast food options, such as Guy's Burger Joint, by US celeb Guy Fieri, and the Shake Spot, also mean that, if you need something quick (or something to appeal to fussy eaters and kids on the go), Carnival has a speedy solution! 
Real footage of Guy's burgers on the Carnival Breeze
Winner: P&O!
Carnival may offer a variety of cuisines but sometimes you need a little taste of class and that's where P&O excels.
Both liners offer flexible dining, which is a must for many cruisers but P&O has some of the best British chefs and artisan produce on-board whilst a lot of Carnivals food is tailored to the American palate, making P&O (at least for us) a clear winner. – Cue the controversy

Round Two – Accommodation
Both P&O and Carnival ships cater for every budget, from inside cabins to outside staterooms with balconies and lavish suites.
However, if you think you'll miss the opportunity to soak in the tub when you're at sea, you'll probably like the news that some of the staterooms on the P&O ships have baths, which are a very rare sighting in the cruising world! You'll also find tea and coffee making facilities in the cabin on a P&O cruise!
Winner: P&O!
Carnival may have Cloud 9 spa rooms but P&O liners have tea making facilities in the rooms!
How can you beat that and the possibility of a nice long soak?
P&O may not have the fancy décor but as far as the quality basics are concerned, they have got it spot on!
Just look at how many people ask questions about tea making facilities on the Q&A section of our site!
Round Three – Entertainment
P&O's entertainment ranges from stage shows that wouldn't look out of place on the West End (in fact, they include West End compilations), to tribute acts that sound like the real deal (well, almost) and casinos where you can flutter away some of your holiday spends (sensibly please!).
How do you leave a cruise ship casino with a small fortune? Arrive with a large fortune!
Carnival however really does excel itself when it comes to the entertainment that its liners have on offer.
From Broadway-esque stage shows in the Toulouse-Lutrec Lounge, to the live music and cocktails in The Blues piano bar, there's plenty going on, across the ships, to ensure the fun continues well into the evening.
The Seaside Theatre, found on most of Carnival ships including Breeze, Dream, Sunshine and Magic, is a huge perk, with a massive 12' x 22' LED screen with mega sound system which shows movies, concerts, sporting events and news at various times throughout the cruise. 
Wow! You wouldn't get that screen in your living room!
The jam-packed entertainment programme also includes The Punchliner comedy club, introduced by renowned US comedian George Lopez, as well as the fun-for-all Hasbro: The Game Show which injects a little healthy competition into the mix.
If live music and intimate gigs are your thing, the Carnival Live Concert Cruises operate throughout the year.
Huge names, including Foreigner and LeAnn Rimes, have performed 90 minute shows as part of the programme, with plenty more big names topping the bill annually. 
https://www.youtube.com/watch?v=xe3vHNm4rjk
Winner: Carnival!
Hands Down. Just look at all of the entertainment options that there are on offer and that's not even half of it.
This line really knows how to put on a party!!!!!!
Round Four – Sports & Games
P&O ships are home to a number of swimming pools, which vary in size and depth (Oceana has the longest pool at 10.8 meters; now that's no Olympic sized pool, 50m long, but still pretty good for a cruise ship!).
If you're after some alone time, without kids running and playing, the adults-only pool to their family friendly ships is a welcome addition. Don't worry though, family-friendly pools are also present (on the family ships obviously!), so that the kids can feel welcome and enjoy some fun in the water too.
The gyms, fitted with Technogym equipment (the leading supplier of gym equipment for many land based gyms), are great for fitness-freaks, whilst the sports programme is diverse and challenging.
There's a golf simulator aboard the Aurora too – perfect if you want to practice your swing and bring out your inner Tiger!
We've never used a gym on a cruise ship but we're told some crazy people do like them!
Likewise, the Carnival ships have everything active types could wish for. Both fleets offer guests the opportunity to play shuffleboard, golf, deck tennis and ping pong, as well as providing a jogging track for those who want to keep up a running routine.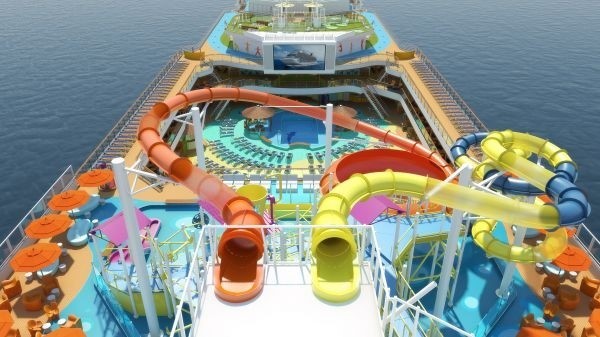 The pools aboard the Carnival fleet most certainly appeal to the young (and the young at heart), with the three-storey high Twister Waterslide and the Drainpipe to test your nerve in the onboard WaterWorks waterparks. 
There is also an at-sea ropes course – SkyCourse – if you want to tackle a challenge and take in some great views of the ocean at the same time, as well as a huge outdoor recreation ground – SportsSquare – where you can shoot some hoops, lift some weights, play on the foosball table and exercise all those ice-creams away.
Winner: Too close to call!
If you're a fun-loving all action hero type (or you've got kids that are forever on the go) Carnival would be your winner.
Whilst P&O liners have a great selection of outdoor leisure activities, Carnival's assortment of sports and games, as well as the added extras, such as SportSquare, the SkyCourse and WaterWorks, pip P&O to the winning post.
If you yearn for relaxation though, without endless shrieks, splashes and squeals in the background, P&O might be a wiser choice.
Round Five – Spa & Wellbeing
The Cloud 9 Spa is available on-board the Carnival ships for some blissful indulgence. Offering soothing and reinvigorating treatments, for guys and girls, it's a great place to head to spruce yourself up and give your body some extra TLC pre-galas.
The Serenity area onboard Carnival Magic is an adults-only paradise where you can forget about the tantrums, the ice-cream demands and the excitable squeals, even if it is just for an hour or two. Treatments offered go that extra mile, with body wraps, teeth whitening, acupuncture and a Thalassotherapy pool all being part of the spa repertoire.
Meanwhile, P&O offers a variety of treatments and pamper packages, to suit all spa connoisseurs. On the Azura, the pamper packages are taken to the next level, with added perks including a priority service, an invite to a 'Spa Under the Stars' event, a spa concierge and access to The Retreat and the Thermal Suite, coming as standard.
You can see a full list of P&O spa treatments here
P&O don't shout from the foghorns about their spa experience or pit themselves as a 'spa cruise line' but they actually do them really well.
From the typical treatments, including mud therapies, Balinese massages and oxygen facials, to DIY scrub bars, alfresco treatments in The Retreat, acupuncture and teeth whitening (on some ships), the spa inventory is pretty impressive.

Winner: P&O
Despite being a little modest, they do spa indulgence perfectly.
Round Six – Vibe!
P&O is popular amongst British cruisers because of its traditional feel, so if you're after plenty of opportunity to relax and enjoy the tranquillity as well as on-board amenities, whilst still feeling close to home at almost every turn, P&O is the liner for you!
From the impeccable service to the continued effort to represent Modern Britain (whilst still holding onto their traditional values with both hands), P&O offers a more varied experience across the fleet, which means that they have something for everyone.
Don't forget too that P&O are one of the few lines that offer adults-only cruises – a must if you want to relax and not worry about how many kids are onboard.
Conversely, Carnival is all about the fun, fun, fun! (Editor's note – Woop woop!)
Whilst both cruise lines welcome children on-board (with the exception of P&O Arcadia, Oriana and Adonia), Carnival have taken the family-friendly vibe and maximised it.
There's so much to do for all ages, the word 'bored' won't even enter into your child's vocabulary. Plus, the easy-going and casual atmosphere will ensure that you can feel comfortable and relaxed, without worrying about dry cleaning the tux if you don't want to.
Winner: It's a tie.
It has to be, as this comes very much down to personal preference!
If you're after a fun-filled family vibe, Carnival is the one. If you've got a hankering for a traditional, British jewel of a cruise with a modern twist, P&O it is!
Round Seven – Shopping
From holiday essentials (in case you've forgotten anything), to designer perfumes, duty free tobacco (if you're travelling outside of the EU) and jewellery and gifts for family and friends back home, the shopping opportunities onboard both P&O and Carnival liners are great.
P&O's Best Price Guarantee helps to fill guests with confidence, knowing that the onboard prices can't be beaten at the ports – and if you do happen to find something is cheaper ashore, P&O will match the price, or refund you the difference.
Winner: P&O
If you're sailing outside the EU! Within E.U waters it would be a draw as you'd need to pay tax (boooooo)!
Round Eight – Kids
P&O offer a kid's club service for all children aged between 2 and 17, giving the grownups a bit of peace and quiet as their little ones enjoy themselves.
The Reef, with four different age-specific clubs (Splashers, Surfers, Scubas and H2O) ensures that kids have fun during the at-sea days, without stressing out their parents with their pleas to play.
P&O also offers night nurseries, children's teas and plenty of entertainment, including themed games, puppet shows and dance competitions, to keep younger cruisers happy until bedtime.
Aboard the Carnival ships, children between 2 and 11 can walk into Camp Carnival and be catered for from the start, to the finish, of the voyage.
It's supervised by an experienced team, meaning you can sit back, relax and enjoy some adult-only time without worrying.
Club O2 is perfect for angsty teenagers, who just need a bit of time away from the parents. With music, video games, food and new mates, it's the perfect hangout! Circle C is for the tweens, aged between 12 -14.
There are video games, dance parties, late night movies and karaoke to make this tricky age group feel pretty special and grown up. 
As well as the amazing onboard WaterWorks waterparks, Carnival also offers dedicated pool fun for the waterbabies at SplashZone, as well as the Seuss at Sea experience, for the little Cat in the Hat fans.
Winner: Carnival.
It's difficult to beat them when it comes to child-friendly amenities. Carnival cruises definitely have that element well and truly covered with characters, Camp Carnival, extra-special swimming and sports facilities, and amazing kid's club spaces and activities.
Round nine – Itineraries
P&O may be a British cruise liner but its itineraries stretch well beyond the confines of the North Sea.
There are actually 269 cruises visiting 218 countries across the world, as well as themed cruises, such as comedy, cricket and art, which will ensure that your particular love is well catered for too.
If you don't wish to sail too far from home, their UK and Ireland cruises use the best ships in the fleet, so promise to be just as incredible as further-flung jaunts.
Carnival's destinations span six continents, and have an inspiring destination list. From the heat of the Mexican Riviera to the glaciers of Alaska, the itineraries are as broad as they come! 
Winner: P&O.
This British-based line has an itinerary to suit absolutely every personal preference and budget, from themed cruises, to culture cruises, to world cruises, to staycations!
Plus, many of the cruises sail from Southampton so you don't have to worry about the airfare and baggage allowances.
Overall Winner: P&O. Seven to five (assuming both cruise lines get a point for a draw)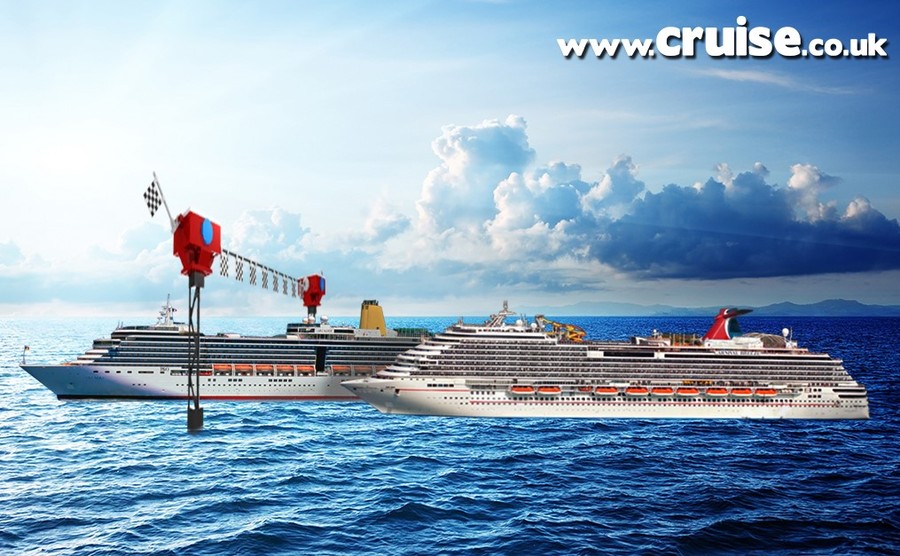 // END - About the Author ?>