The family cruise market is booming, with big players like Royal Caribbean, Disney and Norwegian Cruise Line vying to attract tribes of tots to teens with waterparks, cool kids' clubs, adrenalin activities and cute characters but what about those potential cruisers who don't have kids or do but want to make the most of grandma's obligation as an unpaid babysitter and leave the little ones behind?
What about those who crave a simpler age – when holidays as luxurious as a cruise were reserved for adults only and the kids were happy with a week at the seaside.
If you're craving a sophisticated time at sea, without a giant SpongeBob SquarePants killing the mood or the whoops and screams from flumes spoiling your relaxing swim take a look at these adult only cruises for guaranteed grown up time:
P&O Arcadia
P&O is the jack of all trades of the cruise world.
The fleet has a mix of family friendly and adult only ships and Arcadia is the largest of the three no-kids-allowed liners (Adonia and Oriana are the other two).
Highlights for loved up couples and sophisticated singles include Marco Pierre White's Ocean Grill restaurant, the romantic Intermezzo cocktail lounge, the glamorous Globe late night venue and the amazing onboard spa.
If you've left the kids at home, balance out the years of exposure to kids' TV with a peruse of the ship's 3000 piece art collection.
We can't guarantee it'll get the theme tune to Jake and the Neverland Pirates out of your head, but you won't have to worry about constantly chasing sticky hands away from the paintings.

Cruise and Maritime's Marco Polo
It's firmly no kids' allowed on this medium-sized 800 guest liner, meaning you can relax in one of the three whirlpools without the lurking fear of a dive bomb or dine in the formal Waldorf restaurant without having to ask for crayons.
The Captain's Club Lounge is the perfect place to share a bottle of wine and listen to the pianist – and feel smug that there was no obligation to sit through a 'mini disco' before your grown up evening could begin.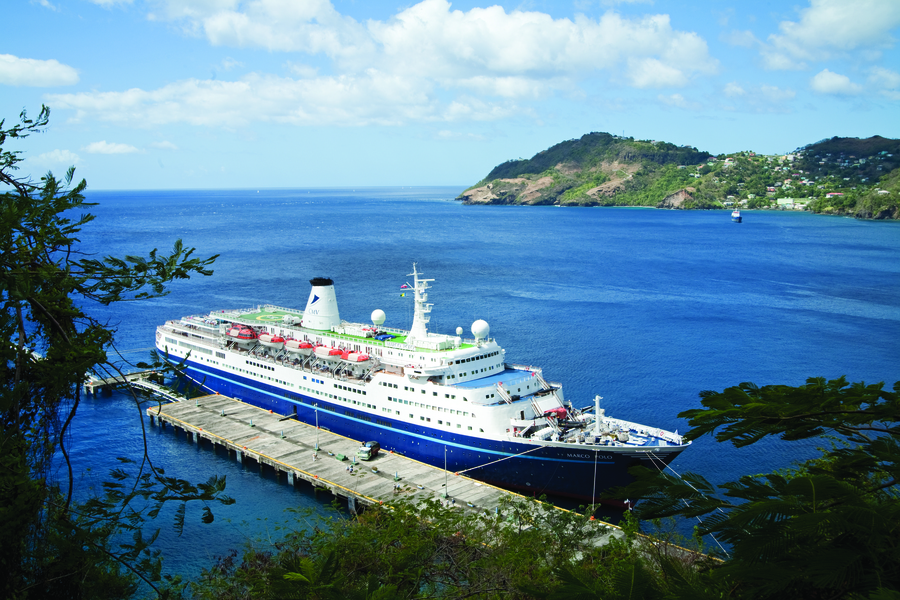 Hebridean Island Cruise
If you're looking for luxury then it doesn't come much more luxurious than plumping for the Royal Family's favourite cruise line, Hebridean.
Those who are happy to leave the swimwear and suncream at home could look at the Scottish Island and European river cruises that this small (Hebridean Princess accommodates fifty guests) but perfectly executed cruise line offers.
On these all inclusive cruises all meals, drinks, snacks and picnics are included (with as much free champers as you can quaff!) and the individually designed cabins give a personal feel. Spend your days exploring remote islands with your own expert tour guide, and your nights cuddled up in front of the inglenook fireplace in the Tiree Lounge.
Who needs blazing sunshine anyway?
Seabourn Odyssey, Sojourn and Quest
Seabourn is one of the six-star luxury lines and whilst not specifically child free, the style of cruising and the cost mean that you've got about as much chance of catching sight of a child riding a dolphin across the ocean as you have on one of these cruise ships.
Suite-only Odyssey boasts ultra-decadent cabins (think walk-in wardrobes, interactive flat-screen TV's, double sinks and bathtubs as standard).
You'll have a complimentary bath menu to peruse or maybe you want a sprinkling of rose petals on your bed?
No problem!
If you can bear to leave the cabin a quiet pool and spa area await and once you've worked up an appetite with all that strenuous relaxation you can work your way through a gourmet seven course dinner.
Just add candlelight and you'll feel like you've floated off to seventh heaven by coffee and petit fours.
SeaDream Yacht Club
Take your pick from SeaDream I and SeaDream II, neither will leave you disappointed if you're after an all out luxurious cruise as a couple.
Like Seabourn, SeaDream cruises are 'ultimate' all inclusive (caviar with your champagne madame?) and it's the fine details on these 110 passenger yachts that make the experience extra special.
In the cabins expect to find a shower big enough for two plus luxuriously fine linens on the bed and for dinner you can choose between the elegant indoor dining room and the covered outdoor restaurant. If you really want to push the boat out in the romance stakes, the Balinese beds on the top deck can be reserved for an evening of sleeping under the stars – yes, really!
Whether it's romance that you want, to dance the night away without so much of a hint of the Macarena or just some quality adult time with like-minded cruisers, an adult-only or six-star luxury cruise guarantees an experience that's set apart from the family friendly mega-liners. Just don't come complaining to us when there's no climbing wall to be found!
// END - About the Author ?>