There are two types of holidaymakers – those who like to be in bed for 9pm and those happy to party all night till 9am. If your idea of a good night out ends with breakfast the next morning, you might be thinking that a cruise couldn't possibly be for you – after all, boats don't have nightclubs, do they? Well, actually, some do! So if you're a night owl who doesn't travel anywhere without your personal supply of glow sticks, here are five of the best boats for party people:
1 – NCL Epic
Norwegian Cruise Line is a disco-fabulous choice for those looking to get their party on, on holiday. The vibe is relaxed, thanks to the Freestyle cruising concept, and the modern fleet boasts a range of fun features to keep up the party atmosphere 24/7. Epic deserves a special mention for its amazing variety of party spots – there are so many bars and clubs that you'd have to be dedicated to the cause to try them all in a week. Choose from 12 bars, including the super cool Svedka Ice Bar and the Bliss Ultra Lounge where you can sip cocktails while getting competitive on the bowling alley (even cooler!). Once you've warmed your night up, head to Spice H20, a truly epic outdoor club that runs various theme nights throughout your cruise (tip, don't forget your 80's legwarmers, tutu or shell suit). Add to the mix a top notch entertainment programme including the Blue Man Group, the Headliners Comedy Club, an onboard waterpark with the only bowl slide at sea and ultra contemporary cabins (including studio cabins for singles without the single supplement!) and you have a foolproof recipe for a party on the water.
Plus, if you are cruising as a ready to mingle singleton, the solo cabins offer access to an exclusive lounge where you can grab a coffee, or something stronger, and get to know your fellow single cruisers on organised social nights. If you can get past the slight awkward factor it's a great way to meet like-minded individuals or groups to help your holiday go with a bang.
Tip: Also consider NCL Breakaway and Getaway.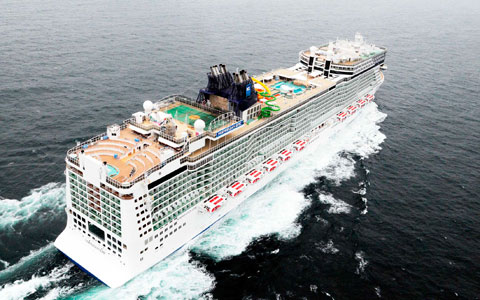 2 – Royal Caribbean Adventure of the Seas
If you're looking for the most variety and the most innovative features you can't really go wrong with a megaship – and Royal Caribbean does megaships like no-one else. Newly refurbished Adventure of the Seas guarantees an active time 24/7, with everything from basketball courts to rock climbing walls to banish daytime boredom before you hit the nightclubs, bars and clubs after sundown. A typical day at sea could be strapping on some inline skates for a whizz around the track (hot pants optional!) and burning off lunch on the sports court then having your funny bone tickled in the comedy club before ending the night on the dance floor at Jesters nightclub. You can even throw in a martini in the Schooner Bar and a visit to a Broadway style show or the Casino Royale if you like your nights out to have a sophisticated side. Alternatively, 'mine's a pint' in The Dog and Duck'! And, to recover, a visit to the Vitality Day Spa and Fitness Centre might be in order. Maybe just skip the fitness centre bit if it's been a heavy one.
Tip: Oasis and Freedom class RCI ships have even more onboard attractions, but the waterparks, nurseries and DreamWorks Experience make them a popular choice with families with young children.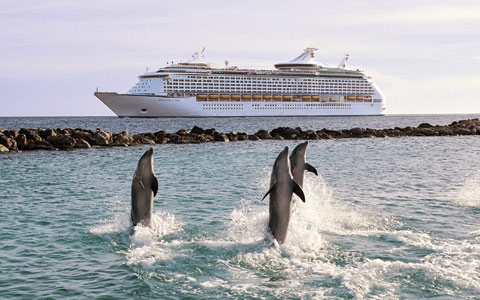 3 – Carnival Elation
Carnival is the go to cruise line for those who want to guarantee a good time cruising – this line even has its own official DJ, DJ IRIE in da house (or on da boat!). If you prefer a smaller, more sociable cruise ship where you can get to know the same faces and make some new party pals, Elation is a great choice. With a capacity of 2,000 passengers, you're likely to see the same partygoers in the Jekyll and Hyde Dance Club – great if meeting new people is a big part of your holidays. There's never a dull moment on this ship, with its amazing selection of day and night attractions. If Elation could go to the karaoke bar it would choose to sing 'Let Me Entertain You' by Robbie! Hit the sports deck for daytime activities, or relax after a wild night with a yoga session. Or, for a different type of workout, head to the shops to find a new 'wow factor' outfit for going out in later. After dark, why not get yourself in the right frame of mind for fun with a trip to the onboard comedy club? After that, hit a pool or deck party, or get down in the disco. Pack your dancing shoes, your singing voice and your funny bone and you're all set to holiday on Elation.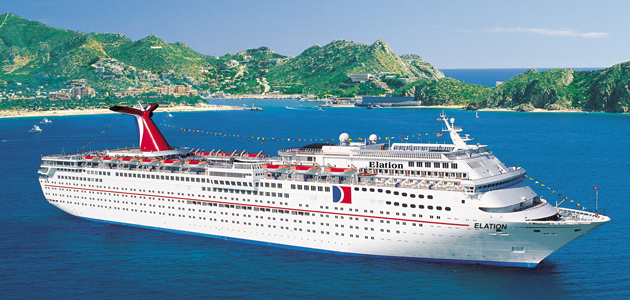 4 – Carnival Sunshine
If you take a 'more the merrier' approach to your cruise holidays the newest liner in the Carnival fleet, Sunshine, is lighting the way for exciting, high energy cruising. Once known as Carnival Destiny, this ship has had a sunny makeover and now boasts enough day and night attractions to keep you on the go your entire cruise. If you're a big kid at heart, hit the onboard WaterWorks waterpark, or take to the SkyCourse above the SportsSquare. To line your stomach before a heavy night you have some relaxed dining options to choose from, including Guy's Burger Joint for killer burgers and the BlueIguana Cantina to spice up your mealtimes. You can go classic at Fahrenheit 555 steakhouse, or mix it up at the Ji Ji Asian Kitchen – the choice is endless and proof that you don't need your best bib and tucker to dine well on a cruise ship. And it doesn't stop at food. When you want to whet your whistle you've got the EA Sportsbar (complete with big screens, draft beers and games consoles!), the BlueIguana tequila bar, a rum bar, the Havana bar, the Alchemy cocktail bar and, for when you just want a decent pint, the RedFrog Pub. Finish the night off at the Carnival nightclub and you've got a day to remember, every single day of your hard-earned holiday.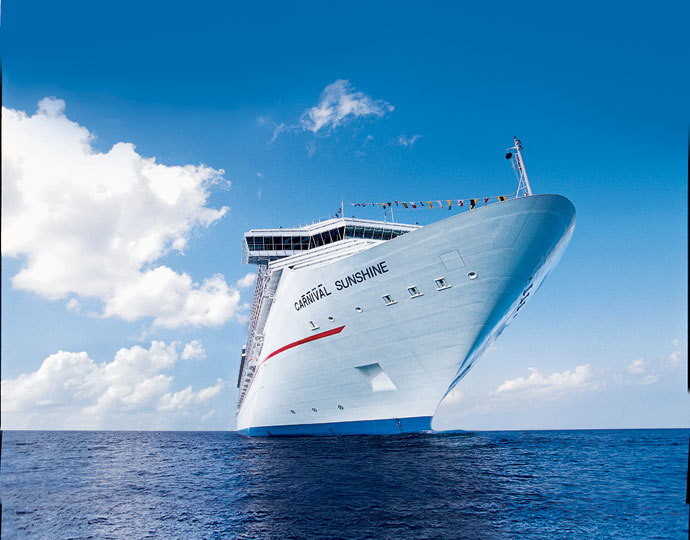 5 – Princess Grand Class
While no cruise line is going to slip into 'Spring Break' territory, if you want to keep hold of some of the formality and sophistication of classic cruising, while still having a darn good time, take a look at Princess for high-end high jinx. Grand class ships boast swanky lounges and cocktail bars, as well as the Atlantic casino for those who fancy a flutter. When you've had enough of blackjack and 'red or black?' you can catch live entertainment at the Explorers Lounge, before heading to the The One5 lounge and nightclub. What's especially fantastic about The One5 is that it has floor to ceiling windows, and a great outdoor terrace to relax on. This sets it apart from the cavernous indoor nightclubs of other liners, and means you can dance the night away without getting either hot or sweaty…much.
If you think a sing-along session in the piano bar is about as wild as it gets on a cruise ship, think again. The best party boats have a wide choice of bars, lounges, entertainment options and nightclubs onboard, with the odd pool or deck party thrown in for good measure. Book yourself onto one of the above liners and you're guaranteed to find a party that's rocking, even if the boat isn't! Party on, cruise fans – just don't forget the paracetamol for the morning after the night before!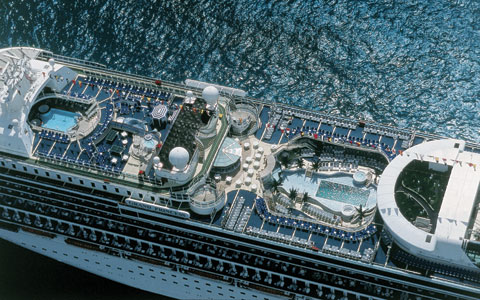 // END - About the Author ?>