Cunard's newest ocean liner – the Queen Elizabeth – will journey to Abu Dhabi on the first stop of her maiden voyage.
The £337 million ship will arrive at the UAE capital's Zayed Port cruise terminal with a total of 2,200 people on board.
Welcoming the liner's arrival, Captain Mohamed Juma Al Shamisi, chief executive, Abu Dhabi Ports Company said: "We are delighted to welcome the Queen Elizabeth to the UAE capital as part of its 2014 World Voyage.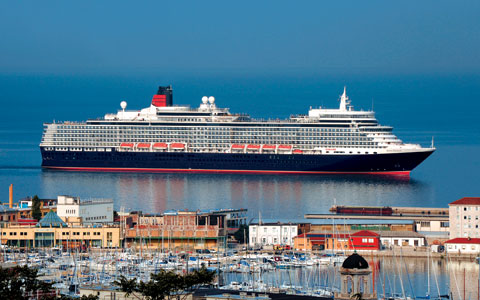 "Cunard's return and future commitment to Zayed Port is an indication of the growing confidence the world's leading lines have in Abu Dhabi, and an endorsement of the quality improvements being implemented through our port investment strategy."
Cunard's decision to return to Abu Dhabi demonstrates a growing interest among passengers for the attractions of the UAE.
The Queen Elizabeth is home to 12 restaurants and bars, an 832-seat Royal Court theatre, a library, a spa and fitness centre, an outdoor pool and 1,046 staterooms and suites.
Its art deco interior evokes the 1930s – the decade that saw the launch of Cunard's first Queen Elizabeth.
Is the Middle East a must see destination for you? Let us know here!
// END - About the Author ?>