Cunard offer their guests a wide range of accommodation on-board, from your standard inside and outside cabins, to Princess and Queens Grill suites.
They have won awards for the quality offered with their Queens Grill Experience, which provides guests with Priority Embarkation & Disembarkation, Priority Luggage Delivery, An Exclusive Bar & Restaurant, as well as an exclusive lounge area & an exclusive deck.
Much more is also on offer however, including fresh fruit, twenty four hour room service and more spacious suites (queens grill suites are sized at up to 2,249 square feet)! You have the freedom of dining whenever you like between 6.30 and 9pm and always have the option of who you want to dine with and get this; many of the suits even come with their own piano!
A Queens Grill suite is an extremely luxurious way to cruise, offering guests a walk-in wardrobe, a spacious private balcony, personal butler service and champagne & strawberries on embarkation! The suites live up to the traditional idea of cruising; being waited on hand and foot and relaxing to your heart's content. With Cunard too – owner of the most famous ocean liners in the world! What could be better, right?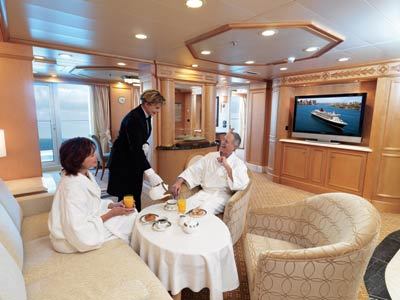 This raises a huge question with a lot of people though… is this just a form of 'one-upmanship'?
Of rubbing it into the noses of those in 'lower class' cabins'?
People understand the concept that you get what you pay for and yes, luxury cruising comes at a price (of course it does!) but surely all guests on a cruise deserve the same treatment and service as everybody else? Some people might say that if you're willing to pay the full rate for a cruise, a company shouldn't be greedy enough to ask for £££s more for better accommodation but…..…
Why, just because they have paid more, should richer people not have to wait to board like everybody else? Money doesn't make people any better than others, it just means that they are able to pay their way into better circumstances.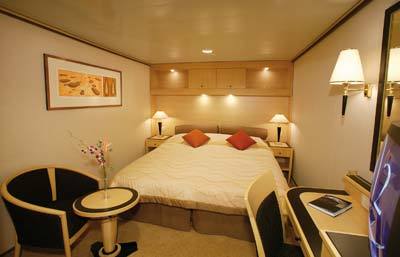 The fact that there is a reserved deck for such guests also elicits a lot of complaints….…
What exactly would happen to a couple in a Queens Grill Suite on a public deck that would be so bad?
How awful would it be if a Britannia passenger used this deck?
They'd probably just be around other people, all enjoying their cruise holiday, not really any different to themselves – how awful!!!!
What do you think? Do you agree that money should be able to buy you into a higher class or do you think that the better rooms should be on a first-come, first-served basis, like seats at concerts, for example? Let us know right now!
// END - About the Author ?>