Date, Region, Line & Ship:


(last updated
Dec 06 2013 09:14AM)

Viking River Cruises operates the world's biggest and foremost array of luxury ships built purposely for river cruising. With cruises to Europe, Russia, China and the Far East, Viking has hosted more than half a million cruisers on magical, informative journeys across the world.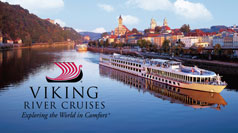 River cruising is popular with travellers who want to spend their holiday in the destination, rather than travelling to get there.

Viking River Cruises' ships are small, carrying an average of 150 passengers. They are Scandinavian in design, with open, spacious interiors. Travellers benefit from all the amenities and services that they might expect in a top hotel, plus extensive, panoramic views throughout the ships. Each of the Viking staterooms has a view of the river from either a window or balcony. Each room has an array of features that one would expect from a 4 star hotel, along with the beauty of water views, satellite television and comfortable beds.

Viking's onboard chefs prepare superb breakfasts, impressive lunches and elegant dinners daily. Whilst dining on board a Viking cruise is 'casual' and offers an open-seating arrangement, the ambience is always elegant and that you would expect in a high-end hotel.

When cruisers journey with Viking River Cruises, they are safe in the knowledge that their experience will be invigorating, exciting and educational - both onboard and on shore. Staff on board are highly trained in providing excellent service, planning exceptional excursions and in the culture or history of the surrounding areas. On every Viking itinerary, work goes into providing a historical, contextual and cultural perspective of the destination. Wherever you choose to travel with Viking, you have the same exceptional standard of service, because Viking arranges all of the trip's important details, nautical, technical, catering, sightseeing and guides themselves. All that's left for you to do is to unpack (just once), enjoy a glass of wine on the calming open deck, listen to inspiring lectures, and enjoy the live entertainment on board. You have the option of taking an excursion on-shore, or exploring at your own leisure, it's your holiday and your choice.

To find out more about Viking River Cruises, European River cruises and cruises to China, Russia and the Far East - speak to one of our Cruise Experts today.
Viking River Cruises Videos

FlyCruise: Hanoi (2 Nights), Siem Reap (3 Nights), Angkor Wat, Kampong Thom, Kampong Cham (Overnight), Udon Monastery, Phnom Penh (Overnight), Chau Doc, Cu Lao Gien, Sa Dec, Cai Be, My Tho, Ho Chi Minh City (2 Nights)
Viking Mekong
3rd Jan 2014 for 14nts
NOW:
Full
£3949
Full
View Offer
FlyCruise: Ho Chi Minh City (2 Nights), My Tho, Cai Be, Sa Dec, Cu Lao Gien, Chau Doc, Phnom Penh (Overnight) Udon Monastery, Kampong Cham, Kampong Thom, Siem Reap (3 Nights), Angkor Wat, Hanoi (2 Nights)
Viking Mekong
13th Jan 2014 for 14nts
NOW:
Full
£3949
Full
View Offer

Spend 2 nights in Hanoi
Magnificent Mekong

River Mekong: Hanoi (2 Nights), Siem Reap (3 Nights), Angkor Wat, Kampong Thom, Kampong Cham (Overnight), Udon Monastery, Phnom Penh (Overnight), Chau Doc, Cu Lao Gien, Sa Dec, Cai Be, My Tho, Ho Chi Minh City (2 Nights)
Viking Mekong
17th Jan 2014 for 14nts

Selected Shore Excursions:
Angkor Wat Tour
Hanoi Tour
Ho Chi Minh City Tour

FREE Flights and Transfers
FREE Drinks with Lunch and dinner
All Taxes and Charges are included
Magnificent Mekong

River Mekong: Ho Chi Minh City (2 Nights), My Tho, Cai Be, Sa Dec, Cu Lao Gien, Chau Doc, Phnom Penh (Overnight) Udon Monastery, Kampong Cham, Kampong Thom, Siem Reap (3 Nights), Angkor Wat, Hanoi (2 Nights)
Viking Mekong
27th Jan 2014 for 14nts

Selected Shore Excursions:
Angkor Wat Tour
Hanoi Tour
Ho Chi Minh City Tour

FREE Flights and Transfers
FREE Drinks with Lunch and dinner
All Taxes and Charges are included
Magnificent Mekong

River Mekong: Hanoi (2 Nights), Siem Reap (3 Nights), Angkor Wat, Kampong Thom, Kampong Cham (Overnight), Udon Monastery, Phnom Penh (Overnight), Chau Doc, Cu Lao Gien, Sa Dec, Cai Be, My Tho, Ho Chi Minh City (2 Nights)
Viking Mekong
31st Jan 2014 for 14nts

Selected Shore Excursions:
Angkor Wat Tour
Hanoi Tour
Ho Chi Minh City Tour

FREE Flights and Transfers
FREE Drinks with Lunch and dinner
All Taxes and Charges are included
Magnificent Mekong

River Mekong: Ho Chi Minh City (2 Nights), My Tho, Cai Be, Sa Dec, Cu Lao Gien, Chau Doc, Phnom Penh (Overnight) Udon Monastery, Kampong Cham, Kampong Thom, Siem Reap (3 Nights), Angkor Wat, Hanoi (2 Nights)
Viking Mekong
10th Feb 2014 for 14nts

Selected Shore Excursions:
Angkor Wat Tour
Hanoi Tour
Ho Chi Minh City Tour

FREE Flights and Transfers
FREE Drinks with Lunch and dinner
All Taxes and Charges are included
Magnificent Mekong

River Mekong: Hanoi (2 Nights), Siem Reap (3 Nights), Angkor Wat, Kampong Thom, Kampong Cham (Overnight), Udon Monastery, Phnom Penh (Overnight), Chau Doc, Cu Lao Gien, Sa Dec, Cai Be, My Tho, Ho Chi Minh City (2 Nights)
Viking Mekong
14th Feb 2014 for 14nts

Selected Shore Excursions:
Angkor Wat Tour
Hanoi Tour
Ho Chi Minh City Tour

FREE Flights and Transfers
FREE Drinks with Lunch and dinner
All Taxes and Charges are included
Magnificent Mekong

River Mekong: Ho Chi Minh City (2 Nights), My Tho, Cai Be, Sa Dec, Cu Lao Gien, Chau Doc, Phnom Penh (Overnight) Udon Monastery, Kampong Cham, Kampong Thom, Siem Reap (3 Nights), Angkor Wat, Hanoi (2 Nights)
Viking Mekong
24th Feb 2014 for 14nts

Selected Shore Excursions:
Angkor Wat Tour
Hanoi Tour
Ho Chi Minh City Tour

FREE Flights and Transfers
FREE Drinks with Lunch and dinner
All Taxes and Charges are included
FlyCruise: Beijing (3 Nights), Xian (Overnight), Chongqing, Shibaozhai, Three Gorges, Yueyung, Wuhan, Shanghai (2 Nights)
Viking Emerald
27th Feb 2014 for 12nts
NOW:
Full
Full
£2945
View Offer
Magnificent Mekong

River Mekong: Hanoi (2 Nights), Siem Reap (3 Nights), Angkor Wat, Kampong Thom, Kampong Cham (Overnight), Udon Monastery, Phnom Penh (Overnight), Chau Doc, Cu Lao Gien, Sa Dec, Cai Be, My Tho, Ho Chi Minh City (2 Nights)
Viking Mekong
28th Feb 2014 for 14nts

Selected Shore Excursions:
Angkor Wat Tour
Hanoi Tour
Ho Chi Minh City Tour

FREE Flights and Transfers
FREE Drinks with Lunch and dinner
All Taxes and Charges are included
FlyCruise: Shanghai (2 Nights), Wuhan, Yueyang, Three Gorges, Shibaozhai, Chingqing, Xian (Overnight), Beijing (3 Nights)
Viking Emerald
7th Mar 2014 for 12nts
NOW:
Full
Full
£2845
View Offer
FlyCruise: Beijing (3 Nights), Xian (Overnight), Chongqing, Fengdu, Shibaozhai, Three Gorges, Lesser Three Gorges, Three Gorges Dam, Jingzhou, Dongting Lake, Wuhan, Jingdezhen, Mt. Jiu Hua, Nanjing, Suzhou, Shanghai (2 Nights)
Viking Emerald
9th Mar 2014 for 17nts
NOW:
Full
Full
£3745
View Offer

2 Nights in Shanghai