Date, Region, Line & Ship:


(last updated
Dec 06 2013 09:14AM)

Uniworld River Cruises offer a boutique hotel experience onboard a luxury cruise ship. The elegant, boutique river cruise line provides the highest level of comfort, superiority and customer service in river cruising with an exclusive variety of destination choices.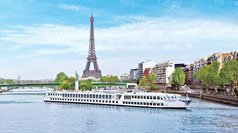 With more than 40 itineraries, Uniworld River Cruises offer guests the chance to sail 11 of the world's most breathtaking rivers, in over 20 countries throughout Europe, Egypt and Russia.

Uniworld cruises are small and intimate, with an average ship capacity of just 130 guests. Guests will benefit from sumptuous, luxury river view staterooms and divine beds draped in extravagant linens, European-made duvets and a menu of pillow options. As you would expect from a high-end boutique hotel, Uniworld cruises provide modern conveniences, including flat-screen televisions with satellite, a dressing table, spacious built-in wardrobes, hair dryer, safety deposit box, individual climate-control thermostat and a direct-dial telephone. All of the ship's suites provide something a little extra, including: a complimentary bottle of wine upon arrival; flat-screen television with DVD player; luxury slippers; refrigerator; complimentary daily fruit plate; and morning coffee and tea; continental breakfast; shoe shine, and free of charge laundry service.

Uniworld River Cruises offer a selection of dining experiences. From dining under the stars on the ship's deck, a light-lunch in the lounge to the Captain's Welcome Gala and Farewell Dinners - there is always something to tantalize guests' tastebuds. Uniworld chefs are well respected and highly trained, providing a variety of meals that will please even the most demanding of pallets.

To book your European River Cruise with Uniworld, or to hear more about their voyages on the most picturesque rivers in the world - speak to a Cruise Expert today.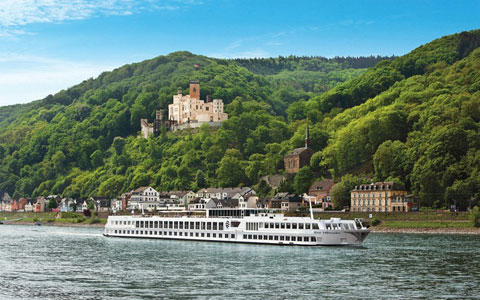 Uniworld River Cruises Videos

Classic Egypt & the Nile

River Nile: Cairo (3 Nts), Dendera, Luxor, Kom Ombo, Aswan
River Tosca
10th Dec 2013 for 8nts

Selected Shore Excursions:


FREE VIP home pick up to the airport
+
Scheduled flights, transfers & taxes included
+
3 nights hotel stay in Cairo on BB basis
+
SHore excursions included with English speaking Egyptologist
Jewels of Egypt, the Nile & Lake Nasser

River Nile: Cairo (3 Nts), Aswan, Kalabsha, Wadi El Seboua, Ajmeda, Kasr Ibrim, Abu Simbel, Aswan, Edfu, Luxor
Prince Abbas
13th Dec 2013 for 12nts

Selected Shore Excursions:


FREE VIP Home pick up service to airport
+
Scheduled flights, transfers & taxes included
+
All shore excursions with English speaking guides included
+
3 night hotel stay in Cairoon a bed & breakfast basis

Classic Egypt & the Nile

River Nile: Cairo (3 Nts), Dendera, Luxor, Kom Ombo, Aswan
River Tosca
14th Dec 2013 for 8nts

Selected Shore Excursions:


FREE VIP home pick up to the airport
+
Scheduled flights, transfers & taxes included
+
3 nights hotel stay in Cairo on BB basis
+
SHore excursions included with English speaking Egyptologist
Jewels of Egypt, the Nile & Lake Nasser

River Nile: Cairo (3 Nts), Aswan, Kalabsha, Wadi El Seboua, Ajmeda, Kasr Ibrim, Abu Simbel, Aswan, Edfu, Luxor
Prince Abbas
20th Dec 2013 for 12nts

Selected Shore Excursions:


FREE VIP Home pick up service to airport
+
Scheduled flights, transfers & taxes included
+
All shore excursions with English speaking guides included
+
3 night hotel stay in Cairoon a bed & breakfast basis

Classic Egypt & the Nile

River Nile: Cairo (3 Nts), Dendera, Luxor, Kom Ombo, Aswan
River Tosca
21st Dec 2013 for 8nts

Selected Shore Excursions:


FREE VIP home pick up to the airport
+
Scheduled flights, transfers & taxes included
+
3 nights hotel stay in Cairo on BB basis
+
SHore excursions included with English speaking Egyptologist
Jewels of Egypt, the Nile & Lake Nasser

River Nile: Cairo (3 Nts), Aswan, Kalabsha, Wadi El Seboua, Ajmeda, Kasr Ibrim, Abu Simbel, Aswan, Edfu, Luxor
Prince Abbas
27th Dec 2013 for 12nts

Selected Shore Excursions:


FREE VIP Home pick up service to airport
+
Scheduled flights, transfers & taxes included
+
All shore excursions with English speaking guides included
+
3 night hotel stay in Cairoon a bed & breakfast basis