(last updated
Dec 04 2013 12:39PM)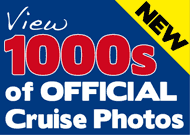 Share your Cruise Photos...
......welcome to Cruise.co.uk photos. Browse and upload your cruise photos so other cruisers and those thinking of going on a cruise can really see how good, great or bad the cruise was with real people in the photos. All we ask is that you have taken the photos and that they are related to cruising, on or outside a ship or at port. Please do not try to upload photos that could be offensive or rude to others.