Date, Region, Line & Ship:


(last updated
Dec 04 2013 12:39PM)

Windstar consists of a fleet of 3 small, sleek yachts designed to show cruisers the world from a whole new point of view. A trip with Windstar guarantees to be full of excitement and thrills, brought to you through dreamy adventures, exploring the world's most scenic places and isolated harbours.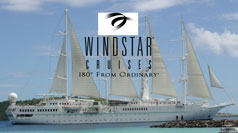 Far away from noisy and rowdy crowds of people, you're free to escape to paradise whenever you want.

Aboard a Windstar ship, you'll be treated to the limitless luxury, complete with an ocean view of the world. Windstar combines the sophistication of a chic hotel with the thrill and adventure one would experience when sailing on their own personal yacht.

Windstar's yachts have the somewhat unusual feature for such a small ship - over 10,000 square feet of extensive, spacious, teak decks. Windstar Cruises suit passengers who really want a private, romantic getaway with all the luxury of travelling with a world-class cruise company.

Windstar cruises visit a large variety of destinations all over the world. Travellers can experience the rustic charm of Italy, sub-tropic climate of the Mediterranean and the beautiful scenery of the Caribbean. Cruises are also available travelling to Greece, Turkey, Costa Rica, the Panama Canal and the Baltic Seas. Windstar also offer incredible trans-Atlantic cruise options that will take your breath away.

To find out more information about Windstar Yachts or to book your cruise holiday, please speak to one of our experienced Cruise Experts today.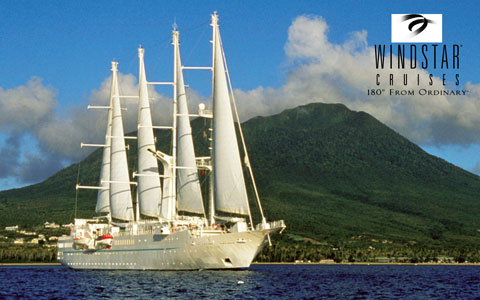 Founded by New York-based Karl Andren in 1984 as Windstar Sail Cruises, the company built high-class sail-cruise ships with computer-controlled sails, outfitting them in a contemporary decor. The first ship, Wind Star, debuted in 1986 to much acclaim, and was followed by Wind Spirit (1988) and Wind Surf (1990).

Windstar Cruises was sold to Holland America Line in 1988. The company, with headquarters in Seattle, USA, was sold again in 2007 to the Ambassadors Cruise Group, wholly owned by Ambassadors International.