Date, Region, Line & Ship:


(last updated
Dec 10 2013 10:07AM)

Voyage of Discovery cruises are perfect for the adventurous traveller. An intimate, small ship, with a limit of just 600 passengers, the atmosphere is friendly and relaxed. The guest itineraries have been designed to provide the ideal mixture of destination ports to suit all tastes and desires for adventure.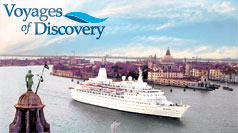 Every voyage offers a exceptional line-up of guest lectures to enable cruisers to gain the most from their holiday.

The 'MV Discovery' was built in 1972, and was refurbished in 2003. Its staterooms are tastefully designed and created to provide the upmost in comfort and luxury.

On MV Discovery you will encounter a whole new experience of gourmet dining. Serving breakfast, lunch, dinner and even midnight snacks - everything is carefully prepared by the ship's online chefs and caters to every taste. Discovery is also known for its customer service and guests will experience the friendliness, attentiveness and care of some of the best staff on the world's waters.

When you book your cruise with Voyage of Discovery cruises, you pay for an 'all-inclusive' holiday package that includes your food, entertainment and any service charges. Should you choose to cruise from Harwich, London, the cost of your car parking will also be included. Voyage of Discovery cruises try to make your holiday as easy and relaxing as possible and, therefore, on fly-cruises your transfer flights are also included from London or Manchester.

Voyage of Discovery cruises take passengers to the most interesting, inspiring and enlightening places on Earth. Guests can book their fly-cruise holiday from London or Manchester to Asia, the Indian Ocena, Afrida, the Far East and Orient.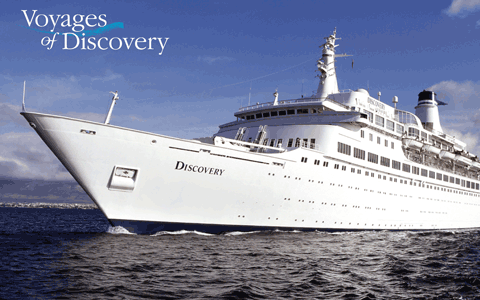 Voyages of Discovery History
UK-based Roger Allard and Dudley Smith jointly founded the company to offer low-cost cruises aboard comfortable, roomy mid-sized ships, to UK-based passengers, but with good food and service. The company's Discovery is one of the former "Love Boats" of US television fame. The company went public in 2006 and, with the help of Lord Sterling of Plaistow, purchased Swan Hellenic Cruises. It now operates both brands from its headquarters in the south of England.

To find out more about Voyage of Discovery and the MV Discovery, its magnificent staterooms, exciting journeys and its wide range of on board events - speak to one of our Cruise Experts today.
Voyages of Discovery Videos

FlyCruise: Port Kelang, Singapore, At Sea, Ho Chi Minh, At Sea, Nha Trang, Da Nang, Ha Long Bay, At Sea, Hong Kong
MV Voyager
2nd Jan 2014 for 18nts
NOW:
£2099
£2729
Full
View Offer
FlyCruise: Port Kelang, Singapore, At Sea, Ho Chi Minh, At Sea, Nha Trang, Da Nang, Ha Long Bay, At Sea, Hong Kong, At Sea, Keelung, At Sea, Shanghai, At Sea, Incheon, Mokpo, Pusan, Fukuoka, Hiroshima, Osaka, Tokyo
MV Voyager
3rd Jan 2014 for 33nts
NOW:
£3949
£5339
Full
View Offer
CruiseOnly: Port Kelang, Singapore, At Sea, Ho Chi Minh, At Sea, Nha Trang, Da Nang, Ha Long Bay, At Sea, Hong Kong, At Sea, Keelung, At Sea, Shanghai, At Sea, Incheon, Mokpo, Pusan, Fukuoka, Hiroshima, Osaka, Tokyo, Nagoya, At Sea, Kagoshima, Nagasaki, At Sea, Naha (Okinawa), Ishigaki (Sakishima Islands), Hualien, Kaohsiung, At Sea, Manila, At Sea, Cebu, At Sea, Sandakan, At Sea, Kota Kinabalu, Muara, At Sea, Sihanoukville, At Sea, Bangkok, At Sea, Singapore, Port Kelang, Langkawi, Phuket, At Sea, Port B
MV Voyager
3rd Jan 2014 for 78nts
NOW:
Full
£9789
Full
View Offer
FlyCruise: Port Kelang, Singapore, At Sea, Ho Chi Minh, At Sea, Nha Trang, Da Nang, Ha Long Bay, At Sea, Hong Kong, At Sea, Keelung, At Sea, Shanghai, At Sea, Incheon, Mokpo, Pusan, Fukuoka, Hiroshima, Osaka, Tokyo, Nagoya, At Sea, Kagoshima, Nagasaki, At Sea, Naha (Okinawa), Ishigaki (Sakishima Islands), Hualien, Kaohsiung, At Sea, Manila, At Sea, Cebu, At Sea, Sandakan, At Sea, Kota Kinabalu, Muara, At Sea, Sihanoukville, At Sea, Bangkok, At Sea, Singapore, Port Kelang, Langkawi, Phuket, At Sea, Port B
MV Voyager
3rd Jan 2014 for 78nts
NOW:
Full
£9789
Full
View Offer
FlyCruise: Hong Kong, At Sea, Keelung, At Sea, Shanghai, At Sea, Incheon, Mokpo, Pusan, Fukuoka, Hiroshima, Osaka, Tokyo, Nagoya, At Sea, Kagoshima, Nagasaki, At Sea, Naha (Okinawa), Ishigaki (Sakishima Islands), Hualien, Kaohsiung, At Sea, Manila
MV Voyager
19th Jan 2014 for 30nts
NOW:
£4139
£5259
Full
View Offer
CruiseOnly: Hong Kong, At Sea, Keelung, At Sea, Shanghai, At Sea, Incheon, Mokpo, Pusan, Fukuoka, Hiroshima, Osaka, Tokyo, Nagoya, At Sea, Kagoshima, Nagasaki, At Sea, Naha (Okinawa), Ishigaki (Sakishima Islands), Hualien, Kaohsiung, At Sea, Manila
MV Voyager
19th Jan 2014 for 30nts
NOW:
£4139
£5259
Full
View Offer
FlyCruise: Hong Kong, At Sea, Keelung, At Sea, Shanghai, At Sea, Incheon, Mokpo, Pusan, Fukuoka, Hiroshima, Osaka, Tokyo
MV Voyager
18th Jan 2014 for 18nts
NOW:
£2449
£2799
Full
View Offer
FlyCruise: Tokyo, Nagoya, At Sea, Kagoshima, Nagasaki, At Sea, Naha (Okinawa), Ishigaki (Sakishima Islands), Hualien, Kaohsiung, At Sea, Manila, At Sea, Cebu, At Sea, Sandakan, At Sea, Kota Kinabalu, Muara, At Sea, Sihanoukville, At Sea, Bangkok, At Sea, Singapore, Port Kelang, Langkawi, Phuket, At Sea, Port Blair, At Sea, Colombo, At Sea, Cochin, At Sea, Marmagao (Goa), Mumbai
MV Voyager
4th Feb 2014 for 46nts
NOW:
Full
£5259
Full
View Offer
FlyCruise: Tokyo, Nagoya, At Sea, Kagoshima, Nagasaki, At Sea, Naha (Okinawa), Ishigaki (Sakishima Islands), Hualien, Kaohsiung, At Sea, Manila, At Sea, Cebu, At Sea, Sandakan, At Sea, Kota Kinabalu, Muara, At Sea, Sihanoukville, At Sea, Bangkok
MV Voyager
3rd Feb 2014 for 29nts
NOW:
Full
£4379
Full
View Offer
FlyCruise: Tokyo, Nagoya, At Sea, Kagoshima, Nagasaki, At Sea, Naha (Okinawa), Ishigaki (Sakishima Islands), Hualien, Kaohsiung, At Sea, Manila
MV Voyager
3rd Feb 2014 for 16nts
NOW:
Full
£3069
Full
View Offer
CruiseOnly: Tokyo, Nagoya, At Sea, Kagoshima, Nagasaki, At Sea, Naha (Okinawa), Ishigaki (Sakishima Islands), Hualien, Kaohsiung, At Sea, Manila, At Sea, Cebu, At Sea, Sandakan, At Sea, Kota Kinabalu, Muara, At Sea, Sihanoukville, At Sea, Bangkok, At Sea, Singapore, Port Kelang, Langkawi, Phuket, At Sea, Port Blair, At Sea, Colombo, At Sea, Cochin, At Sea, Marmagao (Goa), Mumbai
MV Voyager
4th Feb 2014 for 46nts
NOW:
Full
£5259
Full
View Offer
FlyCruise: Manila, At Sea, Cebu, At Sea, Sandakan, At Sea, Kota Kinabalu, Muara, At Sea, Sihanoukville, At Sea, Bangkok
MV Voyager
17th Feb 2014 for 15nts
NOW:
£1899
£2199
Full
View Offer
CruiseOnly: Manila, At Sea, Cebu, At Sea, Sandakan, At Sea, Kota Kinabalu, Muara, At Sea, Sihanoukville, At Sea, Bangkok, At Sea, Singapore, Port Kelang, Langkawi, Phuket, At Sea, Port Blair, At Sea, Colombo, At Sea, Cochin, At Sea, Marmagao (Goa), Mumbai
MV Voyager
18th Feb 2014 for 32nts
NOW:
£3659
£3779
Full
View Offer
FlyCruise: Manila, At Sea, Cebu, At Sea, Sandakan, At Sea, Kota Kinabalu, Muara, At Sea, Sihanoukville, At Sea, Bangkok, At Sea, Singapore, Port Kelang, Langkawi, Phuket, At Sea, Port Blair, At Sea, Colombo, At Sea, Cochin, At Sea, Marmagao (Goa), Mumbai
MV Voyager
18th Feb 2014 for 32nts
NOW:
£3659
£3779
Full
View Offer
FlyCruise: Bangkok, At Sea, Singapore, Port Kelang, Langkawi, Phuket, At Sea, Port Blair, At Sea, Colombo, At Sea, Cochin, At Sea, Marmagao (Goa), Mumbai, Porbandar, At Sea, Muscat, Sur, At Sea, Salalah, At Sea, Massawa, At Sea, Safaga Egypt, Sharm El Sheikh, Aqaba, At Sea, Suez Canal Transit, Alexandria, At Sea, Heraklion, Piraeus, Nauplion, At Sea, Naples, Civitavecchia
MV Voyager
4th Mar 2014 for 48nts
NOW:
£4879
£4839
Full
View Offer
FlyCruise: Bangkok, At Sea, Singapore, Port Kelang, Langkawi, Phuket, At Sea, Port Blair, At Sea, Colombo, At Sea, Cochin, At Sea, Marmagao (Goa), Mumbai
MV Voyager
3rd Mar 2014 for 20nts
NOW:
£1999
£2499
Full
View Offer
Indian, Arabian and African Contrasts
Far East: Mumbai (Overnight), Porbandar, Muscat (Overnight), Sur, Salalah, Massawa (Overnight), Safaga (Overnight)
MV Voyager
21st Mar 2014 for 17nts

Selected Shore Excursions:

FlyCruise: Mumbai, Porbandar, At Sea, Muscat, Sur, At Sea, Salalah, At Sea, Massawa, At Sea, Safaga Egypt, Sharm El Sheikh, Aqaba, At Sea, Suez Canal Transit, Alexandria, At Sea, Heraklion, Piraeus, Nauplion, At Sea, Naples, Civitavecchia
MV Voyager
21st Mar 2014 for 31nts
NOW:
£2929
£2979
Full
View Offer
FlyCruise: Mumbai, Porbandar, At Sea, Muscat, Sur, At Sea, Salalah, At Sea, Massawa, At Sea, Safaga Egypt
MV Voyager
21st Mar 2014 for 17nts
NOW:
£1099
£1299
Full
View Offer
FlyCruise: Mumbai, Porbandar, At Sea, Muscat, Sur, At Sea, Salalah, At Sea, Massawa, At Sea, Safaga Egypt, Sharm El Sheikh, Aqaba, At Sea, Suez Canal Transit, Alexandria, At Sea, Heraklion, Piraeus, Nauplion, At Sea, Naples, Civitavecchia, Livorno, San Remo, At Sea, Valencia, Cartagena, Gibraltar, Cadiz, At Sea, Leixoes, La Coruna, At Sea, Portsmouth
MV Voyager
21st Mar 2014 for 44nts
NOW:
£3999
£3969
Full
View Offer
FlyCruise: Safaga Egypt, Sharm El Sheikh, Aqaba, At Sea, Suez Canal Transit, Alexandria, At Sea, Heraklion, Piraeus, Nauplion, At Sea, Naples, Civitavecchia
MV Voyager
7th Apr 2014 for 14nts
NOW:
£1449
£1739
Full
View Offer
Ancient World and Modern Masterpieces
Europe:
MV Voyager
7th Apr 2014 for 14nts

Selected Shore Excursions:

FlyCruise: Civitavecchia, Livorno, San Remo, At Sea, Valencia, Cartagena, Gibraltar, Cadiz, At Sea, Leixoes, La Coruna, At Sea, Portsmouth
MV Voyager
21st Apr 2014 for 13nts
NOW:
£849
£989
Full
View Offer
CruiseOnly: Portsmouth, At Sea, Port Of Tyne, Rosyth, Scrabster, Stornoway, Belfast, Liverpool, Cardiff, St Marys, Falmouth, St Peter Port, Portsmouth
MV Voyager
4th May 2014 for 13nts
NOW:
£1939
£1929
Full
View Offer
FlyCruise: Portsmouth, At Sea, Port Of Tyne, Rosyth, Scrabster, Stornoway, Belfast, Liverpool, Cardiff, St Marys, Falmouth, St Peter Port, Portsmouth
MV Voyager
4th May 2014 for 13nts
NOW:
£1939
£1929
Full
View Offer