Top Ten Photos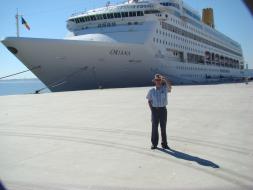 View more or submit your own cruise photos
159,212 Opinions
MSC DO NOT REPLY TO COMPLAINTS!!!!!!
MSC Cruises / MSC Armonia /
MEDITERRANEAN
By Lewis, MERTHYR TYDFIL on 9th Mar 2014
WE BOOKED OUR CRUISE IN JUNE TO TRAVEL DEC 2013,ASKING FOR A DISABLED CABIN,I USE A MOBILITY SCOOTER AND THIS WAS THE 1ST TIME I USED IT ON A CRUISE.oUR FLIGHT WAS PERFECT,NO HASSLE AND PLENTY OF HELP,PROBLEM OCCURRED WHEN WE CHECKED IN OUR CABIN,IT WASN,T...
Read More >>
107 Views

MY CRUISE REVIEW
NCL Cruises / Norwegian Spirit /
Atlantic
By DAVIS, FERNDOWN on 8th Mar 2014
RESTAURANTS-I WAS GOING TO VISIT THE ITALIAN RESTAURANT, BUT UNLIKE ALL THE OTHER THEMED RESTAURANTS THE ITALIAN WAS JUST A CLOSED OFF SECTION OF THE BUFFET AREA. THIS AREA WAS VERY BASIC AND USUALLY OVERCROWDED IN THE MORNING AND MID DAY AND THIS REDUCED THE...
Read More >>
191 Views
1 of 7 found this useful

Going over old ground
Riviera Travel / MS Lord Byron /
River Moselle
By Hamp, Louth on 8th Mar 2014
We decided to go on this cruise as we were once stationed in Germany with the RAF and knew the Rhine and the Moselle from the banks at least! The river boat was quite new and was the longest one able to navigate the Moselle locks...
Read More >>
118 Views
2 of 4 found this useful

View more latest reviews