On Board
Thomson Cruises Ships
Top 10 Thomson Cruises
Tom ( waving),Dave, Cassie,Nicky,Steve J Cruise Director,Chloe, Laura,Jade,Dylan.Front Row - Tino and Craig.
Submitted byNorth, Huddersfield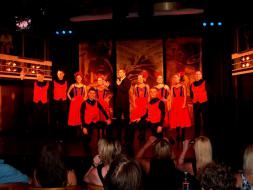 View more or submit your own cruise photos
159,160 Opinions
Atlantic Celebration
Thomson Cruises / Thomson Celebration /
CANARIES
By Dunne, Liverpool on 6th Mar 2014
We cruised on the Thomson Celebration and as always a Thomson cruise offered good value for money. We checked in our cases the day before at Manchester airport which cut out some of the airport hassle. The transfer from the airport to the ship was slick and...
Read More >>
178 Views
4 of 4 found this useful

Thomason Dream Janaury 2014
Thomson Cruises / Thomson Dream /
CARIBBEAN
By Roberts, Pontypool on 4th Mar 2014
We flew from Manchester on the Dreamliner. Being of the longer legged variety we booked extra legroom. Not needed. The flight out was very good. The rainbow lighting was very pretty and made you feel 'in the holiday mood'...
Read More >>
424 Views
10 of 10 found this useful

Don't go by previous reviews, trust Thompson.
Thomson Cruises / Thomson Celebration /
CANARIES
By Walker, Formby on 3rd Mar 2014
We have just returned from the Thompson Celebration cruise Colourful Coasts. We have been on two previous Celebration cruises and wondered how the recent refurbishment had improved things. We were not disappointed...
Read More >>
521 Views
11 of 14 found this useful

View more latest reviews