Date, Region, Line & Ship:


(last updated
Dec 10 2013 10:07AM)

Silversea Cruises are the ultimate in 6* luxury. Silversea have a magnificent fleet of ships which are small and intimate, decorated to the very highest standard that one would expect from a multi-award winning cruise line.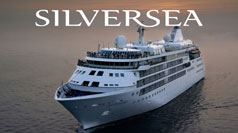 Rated 5 star by Berlitz (one of cruising's highest honours) Silversea's fleet of 4 sumptuous, intimate ships are amongst the greatest on the seas. Having won a whole host of awards, Silversea cruises are some of the most elegant and lavish vessels around.

On board, guests can take advantage of the complimentary food and drink - another of Silversea's exceptional qualities. They are well known for their impeccable cuisine and an outstanding reputation for a superb choice of beverages.

Silversea's ships, the Silver Cloud, Silver Wind, Silver Shadow, Silver Whisper and Silver Spirit are as graceful as a timeless, majestic hotel. They are the definition of extravagance, with all-suite accommodation on board.

All Silversea Cruises are available to book as fly and cruise only holidays from the UK. They travel to an incredible range of destinations all around the world, including fabulous itineraries to the Africa, Alaska and Americas. Silversea cruises guarantee to be the trip of a lifetime for guests, with an all-inclusive culture and a variety of luxurious itineraries to pass the time.

To find out more information about luxury cruising with Silversea Cruises, or to find out more about why their cruises are perfect for couples, honeymoons and singles, speak to one of our knowledgeable Cruise Experts today.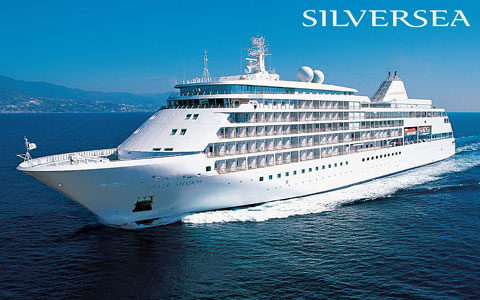 Silversea Cruises is a mostly privately owned cruise line. It was founded in 1992 by the Lefebvre D'Ovidio family from Rome, and is based in Monaco. Antonio Lefebvre D'Ovidio was a maritime lawyer and professor of maritime law before acquiring and operating cargo ships and ferries in the Adriatic. He took the family into partnership with Boris Vlasov's Vlasov Group (V-Ships) to co-own Sitmar Cruises until that company merged with Princess Cruises in 1988.

Ushuaia : Drake Bay : Drake Bay : Cruising Antarctica : Cruising Antarctica : Cruising Antarctica : Cruising Antarctica : Cruising Antarctica : Drake Bay : Drake Bay : Ushuaia
Silver Explorer
12th Dec 2013 for 10nts
SUITES FROM:
£6799
View Offer.

All Inclusive: FREE Drinks, All Gratuities Included
FREE Butler Service for everybody
Fort Lauderdale : Road Town,Tortola : Roseau : Roseau : Philipsburg : San Juan : Samana : Grand Turk, Caicos Islands : Fort Lauderdale
Silver Spirit
13th Dec 2013 for 10nts
SUITES FROM:
£2799
View Offer.

All Inclusive: FREE Drinks, All Gratuities Included
FREE Butler Service for everybody
Buenos Aires : Montevideo : Mar Del Plata : Puerto Madryn (Argentina) : Stanley : Ushuaia : Ushuaia : Portsmouth,Uk : Cruising The Strait Of Magellan : Chilean Fjords : Puerto Chacabuco : Puerto Montt : Sorrento
Silver Cloud
20th Dec 2013 for 16nts
SUITES FROM:
£6399
View Offer.

All Inclusive: FREE Drinks, All Gratuities Included
FREE Butler Service for everybody
Sydney : Melbourne : Melbourne : Burnie, Tasmania : Milford Sound, New Zealand : Stewart Island : Port Chalmers : Akaroa : Picton, New Zealand : Tauranga : Bay Of Islands : Auckland, New Zealand
Silver Shadow
20th Dec 2013 for 15nts
SUITES FROM:
£5299
View Offer.

All Inclusive: FREE Drinks, All Gratuities Included
FREE Butler Service for everybody
Fort Lauderdale : Santa Marta : Cartagena, Spain : Panama Canal : Porto Novo, Cape Verde : Puerto Chiapas : Huatulco : Acapulco : Cabo San Lucas : Los Angeles
Silver Whisper
20th Dec 2013 for 16nts
SUITES FROM:
£4599
View Offer.

All Inclusive: FREE Drinks, All Gratuities Included
FREE Butler Service for everybody
Cape Town, South Africa : Walvis Bay : Walvis Bay : Port Elizabeth : East London, South Africa : Durban, South Africa : Portofino, Italy : Portofino, Italy : Mossel Bay : Cape Town, South Africa : Cape Town, South Africa
Silver Wind
21st Dec 2013 for 14nts
SUITES FROM:
£5199
View Offer.

All Inclusive: FREE Drinks, All Gratuities Included
FREE Butler Service for everybody
Ushuaia : Stanley : 1 Night Pre Cruise Stay New Orleans : West Point Island, Falkland Islands : Drake Bay : Drake Bay : Cruising Antarctica : Cruising Antarctica : Cruising Antarctica : Cruising Antarctica : Drake Bay : Drake Bay : Ushuaia
Silver Explorer
22nd Dec 2013 for 12nts
SUITES FROM:
£7999
View Offer.

All Inclusive: FREE Drinks, All Gratuities Included
FREE Butler Service for everybody
Fort Lauderdale : San Juan : Roseau : St John's ,Newfoundland,Canada : Castries, St Lucia : Bridgetown, Barbados : Bequia, Grenadines : Spanish Town, Virgin Gorda : Samana : Grand Turk, Caicos Islands : Fort Lauderdale
Silver Spirit
23rd Dec 2013 for 14nts
SUITES FROM:
£4499
View Offer.

All Inclusive: FREE Drinks, All Gratuities Included
FREE Butler Service for everybody
CruiseOnly: Ushuaia, Day At Sea, New Island, West Point Island, Stanley, Day At Sea, South Georgia, Day At Sea, Elephant Island, Antarctic Peninsula, Drake Passage, Ushuaia
Silver Explorer
3rd Jan 2014 for 18nts
NOW:
Full
Full
Full
View Offer

All Inclusive: FREE Drinks, All Gratuities Included
FREE Butler Service for everybody
CruiseOnly: Cape Town, Day At Sea, East London, Durban, Richards Bay, Maputo, Day At Sea, Tolagnaro, Day At Sea, Pointe Des Galets, Port Louis
Silver Wind
4th Jan 2014 for 12nts
NOW:
Full
£3050
£3850
View Offer

All Inclusive: FREE Drinks, All Gratuities Included
FREE Butler Service for everybody
CruiseOnly: Valparaiso, Day At Sea, Puerto Montt, Puerto Chacabuco, Laguna San Raphael, Punta Arenas, Ushuaia, Day At Sea, Stanley, Day At Sea, Punta Del Este, Montevideo, Buenos Aires
Silver Cloud
5th Jan 2014 for 16nts
NOW:
Full
£4850
£5950
View Offer

All Inclusive: FREE Drinks, All Gratuities Included
FREE Butler Service for everybody
CruiseOnly: Fort Lauderdale, Day At Sea, San Juan, Gustavia, Philipsburg, St Johns, Roseau, Castries, Bridgetown
Silver Spirit
6th Jan 2014 for 9nts
NOW:
Full
£2950
£3150
View Offer

All Inclusive: FREE Drinks, All Gratuities Included
FREE Butler Service for everybody
CruiseOnly: Los Angeles, Day At Sea, Hilo, Lahaina, Honolulu, Day At Sea, Date Line Lose A Day, Day At Sea, Fanning Island, Day At Sea, Date Line Gain A Day, Pago Pago, Day At Sea, Date Line Lose A Day, Nukualofa, Day At Sea, Auckland
Silver Whisper
6th Jan 2014 for 21nts
NOW:
£8950
£7050
£8750
View Offer

All Inclusive: FREE Drinks, All Gratuities Included
FREE Butler Service for everybody
Latin America and Antarctica: Barbados (5 Nights), St. George'S, Devil'S Island, Belem, Recife, Salvador De Bahia, Buzios, Rio De Janerio (Overnight)
Silver Spirit
10th Jan 2014 for 20nts

Selected Shore Excursions:

CruiseOnly: Bridgetown, St Georges, Day At Sea, Devils Island, Day At Sea, Belem, Day At Sea, Recife, Day At Sea, Salvador De Bahia, Day At Sea, Buzios, Rio De Janeiro
Silver Spirit
15th Jan 2014 for 14nts
NOW:
Full
Full
£4050
View Offer

All Inclusive: FREE Drinks, All Gratuities Included
FREE Butler Service for everybody
CruiseOnly: Port Louis, Pointe Des Galets, Day At Sea, Tolagnaro, Day At Sea, Maputo, Richards Bay, Durban, East London, Day At Sea, Cape Town
Silver Wind
16th Jan 2014 for 12nts
NOW:
Full
£4550
Full
View Offer

All Inclusive: FREE Drinks, All Gratuities Included
FREE Butler Service for everybody
CruiseOnly: Melbourne, Day At Sea, Sydney, Day At Sea, Whitsundays (Hamilton Island), Cairns, Day At Sea, Thursday Island, Day At Sea, Darwin, Day At Sea, Benoa
Silver Shadow
19th Jan 2014 for 15nts
NOW:
Full
£4050
£4450
View Offer

All Inclusive: FREE Drinks, All Gratuities Included
FREE Butler Service for everybody
CruiseOnly: Ushuaia, Drake Passage, Antarctic Peninsula, Drake Passage, Ushuaia
Silver Explorer
21st Jan 2014 for 10nts
NOW:
Full
£7550
Full
View Offer

All Inclusive: FREE Drinks, All Gratuities Included
FREE Butler Service for everybody
CruiseOnly: Auckland, Tauranga, Napier, Picton, Akaroa, Port Chalmers (Dunedin), Day At Sea, Sydney
Silver Whisper
27th Jan 2014 for 10nts
NOW:
£5050
£3950
£4950
View Offer

All Inclusive: FREE Drinks, All Gratuities Included
FREE Butler Service for everybody
CruiseOnly: Cape Town, Day At Sea, Port Elizabeth, Day At Sea, Maputo, Richards Bay, Durban, East London, Day At Sea, Cape Town
Silver Wind
28th Jan 2014 for 10nts
NOW:
Full
£3750
Full
View Offer

All Inclusive: FREE Drinks, All Gratuities Included
FREE Butler Service for everybody