Regent Cruises Ships
On Board
Top 10 Regent Cruises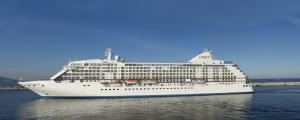 View more or submit your own cruise photos
159,249 Opinions
You get what you pay for.
Regent Cruises / Seven Seas Mariner /
SOUTH AMERICA
By Castle, Sawbridgeworth on 31st Jan 2014
I would like to start off by saying that, overall, the cruise was excellent and that we had a really good time. This now leaves room for me to talk about the niggly things as well as the good ones. We have been with Regent a number of times (Oceania is...
Read More >>
584 Views
12 of 12 found this useful

Best cruise ever with Regent
Regent Cruises / Seven Seas Mariner /
MEDITERRANEAN
By McGuire, Maidenhead, Berks on 26th Jan 2014
We had taken a part world cruise with Cunard earlier in the year but were so disappointed that we decided to book another cruise to compensate and to celebrate a 40th. wedding anniversary and 70th birthday among ourselves and 2 friends...
Read More >>
385 Views
1 of 2 found this useful

Oz and NZ on Seven Seas Voyager.
Regent Cruises / Seven Seas Voyager /
AUSTRALASIA
By Richard Price, Norwich on 24th Jan 2014
Having been regular cruisers for many years we are slowly working round the major cruise lines. This was our first venture onto a Regent ship and into the so called '6 star' market. Australia and New Zealand seemed the perfect opportunity to give it a go...
Read More >>
2292 Views
3 of 3 found this useful

View more latest reviews