Date, Region, Line & Ship:


(last updated
Dec 10 2013 10:07AM)

When you think of luxury, you think of a 5* cruise line with all the added extras that you could possibly wish for. Regent Seven Seas cruises offer that, and a whole lot more. Rated as a 6* cruise line, Regent Seven Seas is the ideal choice for honeymoon cruises, celebration cruises and those wanting to experience the true luxury of cruising.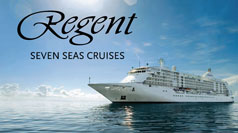 You might think that luxury cruising means high costs, extortionate drink prices and expensive service charges - not on a Regent Seven Seas Cruise. In fact, on all Regent Cruises, all of your drinks (alcoholic and non-alcoholic), all of the magical shore outings, flights and transfers are all included in the price of your cruise - allowing you to budget for your shopping and other little extras.

Regent Seven Seas cruises are well renowned for their opulence. Cruising with Regent really is the most luxurious way to travel the seas. Many of the elegant suites benefit from a personal butler service, making you trip even more relaxing and hassle-free.

Of course, every suite is decorated to the highest standard and most benefit from a balcony - simply what you would expect from a 6* service. The ships are small, with a capacity of between 300 to 700 passengers, with a incredible ratio of 2 members of crew to every 3 guests.

Dining on board a Regent Seven Seas cruise is an experience like no other, with the finest fare and complementary wines served throughout your meal. Each ship has at least four of the finest restaurants on the seas. Guests onboard a Regent Cruise can expect only the best cuisine and handpicked wines.

Speak to our Cruise Experts today to see the wide range of different fly and cruise holidays that we have offer for your 2011/2012 holiday. Regent Seven Seas cruises have itineraries which include Mediterranean cruises, cruises around the Baltic/Fjords, Caribbean cruises, Panama Canal cruises and New England cruises in the summer - plus many more.

Ideal for couple's cruises, single cruises, honeymoon cruises, celebration cruises and luxury cruises.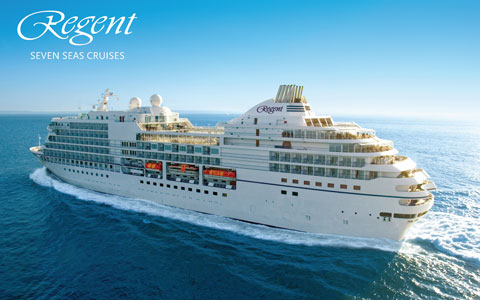 The company has a complicated history. It was born out of Seven Seas Cruises, which was originally based in San Francisco. For many years, it was part of the Carlson group, and operated as Radisson Seven Seas Cruises. Carlson Hospitality Worldwide ventured into cruising via its Radisson Hotels International division - hence, Radisson Diamond Cruises (when Radisson Diamond joined in 1992). In 1994 Radisson Diamond Cruises and Seven Seas Cruise Line merged to become Radisson Seven Seas Cruises, and in 2007 it became Regent Seven Seas Cruises. Also in 2007, the company was bought by US-based investment group Apollo Management, and, together with Oceania Cruises, was placed under the umbrella of its Prestige Cruise Holdings. It spent $40 million to refurbish its three ships in 2009-10.

Montevideo : Buenos Aires : Buenos Aires : Buenos Aires : Montevideo : Montevideo : Punta Del Este : Hoonah : Porto Belo : Santos : Parati : Ilha Grande : Buzios, Brazil : Rio De Janeiro : Rio De Janeiro : Salvador De Bahia, Brazil
Seven Seas Mariner
18th Dec 2013 for 20nts
SUITES FROM:
Full
View Offer.

The Most ALL INCLUSIVE 6* Cruise Experience
FREE Flights, FREE Drinks, FREE Gratuities, Unlimited Shore Excursions
Seven Seas Mariner
20th Dec 2013 for 0nts
NOW:
Full
Full
Full
View Offer.

The Most ALL INCLUSIVE 6* Cruise Experience
FREE Flights, FREE Drinks, FREE Gratuities, Unlimited Shore Excursions
FlyCruise: Buenos Aires, Montevideo, Punta Del Este, Rio Grande, Porto Belo, Santos, Paraty, Ilha Grande, Buzios, Rio De Janeiro, Salvador De Bahia, Fortaleza, Alter Do Chao (Amazon River), Boca Da Valeria (Amazon River), Manaus (Amazon River), Parintins (Amazon River), Santarem (Amazon River), Devils Island, At Sea, Bridgetown, Gustavia, San Juan, At Sea, Miami, Willemstad, Oranjestad, Cartagena, Transit The Panama Canal, Manta, Guayaquil, Salaverry, Lima (Callao), Pisco, Matarani (Arequipa), Antofagast
Seven Seas Mariner
20th Dec 2013 for 70nts
NOW:
Full
Full
Full
View Offer

The Most ALL INCLUSIVE 6* Cruise Experience
FREE Flights, FREE Drinks, FREE Gratuities, Unlimited Shore Excursions
FlyCruise: Buenos Aires, Montevideo, Punta Del Este, Rio Grande, Porto Belo, Santos, Paraty, Ilha Grande, Buzios, Rio De Janeiro, Salvador De Bahia, Fortaleza, Alter Do Chao (Amazon River), Boca Da Valeria (Amazon River), Manaus (Amazon River), Parintins (Amazon River), Santarem (Amazon River), Devils Island, At Sea, Bridgetown, Gustavia, San Juan, At Sea, Miami
Seven Seas Mariner
20th Dec 2013 for 36nts
NOW:
Full
Full
£13289
View Offer

The Most ALL INCLUSIVE 6* Cruise Experience
FREE Flights, FREE Drinks, FREE Gratuities, Unlimited Shore Excursions
FlyCruise: Singapore, Bali (Tanah Ampo), Komodo, Darwin, Cooktown, Cairns, Townsville, Brisbane, Sydney
Seven Seas Voyager
22nd Dec 2013 for 16nts
NOW:
Full
Full
£6539
View Offer

The Most ALL INCLUSIVE 6* Cruise Experience
FREE Flights, FREE Drinks, FREE Gratuities, FREE Shore Excursions
FlyCruise: Singapore, Bali (Tanah Ampo), Komodo, Darwin, Cooktown, Cairns, Townsville, Brisbane, Sydney, Dunedin, Akaroa, Picton, Wellington, Tauranga, Auckland
Seven Seas Voyager
22nd Dec 2013 for 26nts
NOW:
Full
Full
£9679
View Offer

The Most ALL INCLUSIVE 6* Cruise Experience
FREE Flights, FREE Drinks, FREE Gratuities, FREE Shore Excursions
FlyCruise: Miami, Gustavia, Roseau, Bridgetown, St. Georges, St. Johns, San Juan, Cayo Levantado, Princess Cays (Eleuthera), Miami
Seven Seas Navigator
23rd Dec 2013 for 12nts
NOW:
Full
Full
Full
View Offer

The Most ALL INCLUSIVE 6* Cruise Experience
FREE Flights, FREE Drinks, FREE Gratuities, FREE Shore Excursions
FlyCruise: Rio De Janeiro, Salvador De Bahia, Fortaleza, Alter Do Chao (Amazon River), Boca Da Valeria (Amazon River), Manaus (Amazon River), Parintins (Amazon River), Santarem (Amazon River), Devils Island, At Sea, Bridgetown, Gustavia, San Juan, At Sea, Miami, Willemstad, Oranjestad, Cartagena, Transit The Panama Canal, Manta, Guayaquil, Salaverry, Lima (Callao)
Seven Seas Mariner
4th Jan 2014 for 35nts
NOW:
Full
Full
Full
View Offer

The Most ALL INCLUSIVE 6* Cruise Experience
FREE Flights, FREE Drinks, FREE Gratuities, Unlimited Shore Excursions
FlyCruise: Rio De Janeiro, Salvador De Bahia, Fortaleza, Alter Do Chao (Amazon River), Boca Da Valeria (Amazon River), Manaus (Amazon River), Parintins (Amazon River), Santarem (Amazon River), Devils Island, At Sea, Bridgetown, Gustavia, San Juan, At Sea, Miami
Seven Seas Mariner
4th Jan 2014 for 21nts
NOW:
Full
Full
£7869
View Offer

The Most ALL INCLUSIVE 6* Cruise Experience
FREE Flights, FREE Drinks, FREE Gratuities, Unlimited Shore Excursions
FlyCruise: Miami, Costa Maya, Roatan, Santo Tomas De Castilla, Belize City, Cozumel, George Town, Key West, Miami
Seven Seas Navigator
4th Jan 2014 for 10nts
NOW:
Full
£3689
Full
View Offer

The Most ALL INCLUSIVE 6* Cruise Experience
FREE Flights, FREE Drinks, FREE Gratuities, FREE Shore Excursions
FlyCruise: Sydney, Dunedin, Akaroa, Picton, Wellington, Tauranga, Auckland
Seven Seas Voyager
7th Jan 2014 for 10nts
NOW:
Full
Full
£4469
View Offer

The Most ALL INCLUSIVE 6* Cruise Experience
FREE Flights, FREE Drinks, FREE Gratuities, FREE Shore Excursions
North America and the Carribbean: Miami (2 Nights), Nassau, San Juan, Gustavia, St. John'S, Castries, Philipsburg, Miami
Seven Seas Navigator
12th Jan 2014 for 13nts

Selected Shore Excursions:

FlyCruise: Miami, Nassau, San Juan, Gustavia, St. Johns, Castries, Philipsburg, Miami
Seven Seas Navigator
14th Jan 2014 for 10nts
NOW:
Full
£3459
£4099
View Offer

Exclusive $400pc FREE Onboard Spa and Shipboard Credit
The Most ALL INCLUSIVE 6* Cruise Experience
FlyCruise: Auckland, Tauranga, Napier, Wellington, Akaroa, Dunedin, Hobart (Tasmania), Melbourne, Sydney
Seven Seas Voyager
17th Jan 2014 for 15nts
NOW:
Full
Full
£7749
View Offer

The Most ALL INCLUSIVE 6* Cruise Experience
FREE Flights, FREE Drinks, FREE Gratuities, FREE Shore Excursions
FlyCruise: Auckland, Tauranga, Napier, Wellington, Akaroa, Dunedin, Hobart (Tasmania), Melbourne, Sydney, Brisbane, Whitsunday Island, Townsville, Cairns, Cooktown, Darwin, Komodo, Bali (Tanah Ampo), Semarang, Singapore, Sihanoukville, Bangkok (Laem Chabang), Ho Chi Minh City (Saigon), Da Nang, Hanoi (Ha Long Bay), Hong Kong, Keelung, Naha, Shanghai, Hiroshima, Kyoto (Kobe), Seoul (Inchon), Dalian, Beijing (Tianjin), Seoul (Inchon), Shanghai, Xiamen, Hong Kong, Hanoi (Ha Long Bay), Ho Chi Minh City (Saig
Seven Seas Voyager
17th Jan 2014 for 136nts
NOW:
Full
Full
£52269
View Offer

The Most ALL INCLUSIVE 6* Cruise Experience
FREE Flights, FREE Drinks, FREE Gratuities, FREE Shore Excursions
FlyCruise: Auckland, Tauranga, Napier, Wellington, Akaroa, Dunedin, Hobart (Tasmania), Melbourne, Sydney, Brisbane, Whitsunday Island, Townsville, Cairns, Cooktown, Darwin, Komodo, Bali (Tanah Ampo), Semarang, Singapore
Seven Seas Voyager
17th Jan 2014 for 33nts
NOW:
Full
Full
Full
View Offer

The Most ALL INCLUSIVE 6* Cruise Experience
FREE Flights, FREE Drinks, FREE Gratuities, FREE Shore Excursions
FlyCruise: Auckland, Tauranga, Napier, Wellington, Akaroa, Dunedin, Hobart (Tasmania), Melbourne, Sydney, Brisbane, Whitsunday Island, Townsville, Cairns, Cooktown, Darwin, Komodo, Bali (Tanah Ampo), Semarang, Singapore, Sihanoukville, Bangkok (Laem Chabang), Ho Chi Minh City (Saigon), Da Nang, Hanoi (Ha Long Bay), Hong Kong, Keelung, Naha, Shanghai, Hiroshima, Kyoto (Kobe), Seoul (Inchon), Dalian, Beijing (Tianjin)
Seven Seas Voyager
17th Jan 2014 for 63nts
NOW:
Full
Full
Full
View Offer

The Most ALL INCLUSIVE 6* Cruise Experience
FREE Flights, FREE Drinks, FREE Gratuities, FREE Shore Excursions
FlyCruise: Auckland, Tauranga, Napier, Wellington, Akaroa, Dunedin, Hobart (Tasmania), Melbourne, Sydney, Brisbane, Whitsunday Island, Townsville, Cairns, Cooktown, Darwin, Komodo, Bali (Tanah Ampo), Semarang, Singapore, Sihanoukville, Bangkok (Laem Chabang), Ho Chi Minh City (Saigon), Da Nang, Hanoi (Ha Long Bay), Hong Kong, Keelung, Naha, Shanghai, Hiroshima, Kyoto (Kobe), Seoul (Inchon), Dalian, Beijing (Tianjin), Seoul (Inchon), Shanghai, Xiamen, Hong Kong, Hanoi (Ha Long Bay), Ho Chi Minh City (Saig
Seven Seas Voyager
17th Jan 2014 for 121nts
NOW:
Full
Full
£47339
View Offer

The Most ALL INCLUSIVE 6* Cruise Experience
FREE Flights, FREE Drinks, FREE Gratuities, FREE Shore Excursions
FlyCruise: Miami, At Sea, Grand Turk, San Juan, Gustavia, Philipsburg, Tortola, La Romana, At Sea, Nassau, Miami
Seven Seas Navigator
24th Jan 2014 for 10nts
NOW:
Full
£3779
£4359
View Offer

The Most ALL INCLUSIVE 6* Cruise Experience
FREE Flights, FREE Drinks, FREE Gratuities, FREE Shore Excursions
FlyCruise: Miami, Willemstad, Oranjestad, Cartagena, Transit The Panama Canal, Manta, Guayaquil, Salaverry, Lima (Callao)
Seven Seas Mariner
25th Jan 2014 for 14nts
NOW:
Full
Full
Full
View Offer

The Most ALL INCLUSIVE 6* Cruise Experience
FREE Flights, FREE Drinks, FREE Gratuities, Unlimited Shore Excursions