Top Ten Photos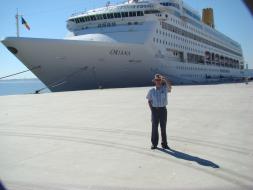 View more or submit your own cruise photos
159,185 Opinions
Cruise to Thailand and Vietnam
Royal Caribbean Cruises / Mariner of the Seas /
FAR EAST
By Knaggs, Peterborough on 7th Mar 2014
We have recently returned from a Royal Caribbean cruise on the Mainer of the Seas to Thailand and Bangkok. Out of 3100 passengers there were over 1200 Singaporians on board there were approximately 100 Britons, 140 Australians, 120 Americans, the...
Read More >>
49 Views

A PRINCESS FIT FOR A QUEEN
Hebridean / Hebridean Spirit /
BRITISH ISLES
By Eaton, St Neots on 7th Mar 2014
Just very occasionally one can find a place, or in this case a ship, where it is possible to hide away from the battles of 21st century life. Such a ship is the Hebridian Princess. My wife and I joined the first cruise of the season, a short four night trip,...
Read More >>
36 Views

Not Quite According to Plan!
P&O Cruises / Oriana /
CANARIES
By Lomax, Milton Keynes on 7th Mar 2014
We set out, heading into the storms coming from the Atlantic, in mid-February, heading for the Canaries. Our first trip on the Oriana, and, indeed, with P&O, although we have taken many cruises with other companies in the past...
Read More >>
133 Views
4 of 4 found this useful

View more latest reviews