Top 10 Oceania Cruises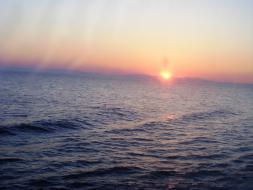 View more or submit your own cruise photos
159,255 Opinions
PACIFIC ISLANDS AND THE CORAL SEAS
Oceania Cruises / Marina /
PACIFIC
By GERMAN, ROMFORD on 2nd Mar 2014
WE HAVE JUST COME BACK FROM A CRUISE ON OCEANIA CRUISES AN BOARD THE M.V. MARINA TO THE SOUTH PACIFIC AND THE CORAL SEAS. WE FLEW FROM LONDON HEATHROW AIRPORT TO LOS ANGELES. THE FLIGHT TOOK APPROXIMATELY 11 HOURS...
Read More >>
342 Views
2 of 8 found this useful

Real Special Cruise
Oceania Cruises / Riviera /
MEDITERRANEAN
By Soden, Leigh-On-Sea. on 1st Feb 2014
We were picked up at Marco Polo airport and taken to the port via private limo to board the Riviera which we had sailed on in the Caribbean in January. Embarkation was easy as we were in a Vista Suite and from the off were treated like King and Queen...
Read More >>
356 Views
9 of 10 found this useful

Smooth Atlantic/Caribbean
Oceania Cruises / Riviera /
TRANSATLANTIC
By Bayliss, Stratford upon Avon on 23rd Jan 2014
We had planned a Caribbean cruise on the Riviera in November with my sister who lives in Florida. We were going to fly to Miami but then realised that the cruise prior to ours for Riviera was leaving Barcelona for Miami so instead of flying out we joined...
Read More >>
250 Views
1 of 1 found this useful

View more latest reviews