Date, Region, Line & Ship:


(last updated
Dec 06 2013 09:14AM)

Hurtigruten cruises' fleet of ten magnificent ships offer the ideal cruising experience.

As they travel to the more secluded areas of Greenland, Europe, Norway and Antartica, Hurtingruten Cruises offer guests the chance to explore and discover destinations that are not easily accessible to everyday tourists.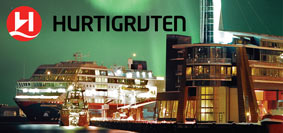 Hurtigruten Cruises also deliver cargo and post, which means they really do visit the most secluded and remote destinations in the world.

With trips available including the stunning Norwegian Fjords, to the Northern Lights or the stunning Antartica landscapes - its important that you enjoy your journey in the ultimate of luxury. Hurtigruten Cruises offer you the chance to do just that - their ships are perfectly designed to exceed your expectations and provide the most comfortable journey possible.

Hurtigruten Cruises take guests on the journey of their lifetime, with exceptional standards of food, 24-hour drinks service, a relaxed atmosphere and informal surroundings.

Hurtigruten Cruises don't provide commercial entertainment, instead focussing on classical, calming activities and engaging passengers. Hurtingrtuen's priority is to get closer to the unique surroundings, and to educate their guests in the meantime. The 'Explorer' voyages provide superb, educational guides from guest-speakers who have an in-depth knowledge of the environment around them.

Hurtigruten Cruises are exceptionally popular, and are often booked-up quickly. Speak to our Cruise Experts today to book your journey of a lifetime before it passes you by.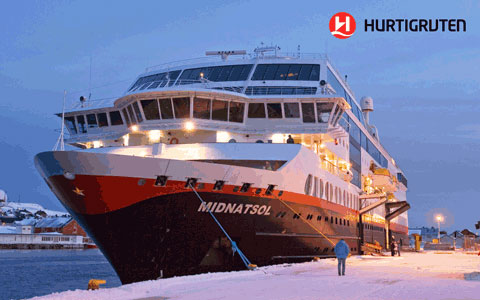 FlyCruise:
ms Nordnorge
21st Jan 2014 for 11nts
NOW:
£1479
£1597
Full
View Offer

Return Flights and Transfers Included
FlyCruise: Tromso, Honningsvag, Kirkenes, Hammerfest, Tromso (Overnight)
ms Trollfjord
26th Jan 2014 for 4nts
NOW:
£999
£1100
Full
View Offer

See the Northern Lights
FlyCruise: Bergen, Alesund, Geirangerfjord, Trondheim, Lofoten Islands, Tromso, Honningsvag, Kirkenes, Hammerfest, Tromso, Vesteralen, Lofoten Islands, Torghatten, Trondheim, Kristiansund, Bergen
MS Finnmarken
1st Feb 2014 for 11nts
NOW:
Full
£1479
Full
View Offer

Return Flights and Transfers Included
FlyCruise:
ms Nordnorge
5th Feb 2014 for 11nts
NOW:
£1479
£1597
Full
View Offer

Return Flights and Transfers Included
FlyCruise: Tromso, Honningsvag, Kirkenes, Hammerfest, Tromso (Overnight)
ms Midnatsol
9th Feb 2014 for 4nts
NOW:
£1019
£1120
Full
View Offer

See the Northern Lights
CruiseOnly: Tromso, Honningsvag, Kirkenes, Hammerfest, Tromso (Overnight)
ms Midnatsol
9th Feb 2014 for 4nts
NOW:
Full
Full
Full
View Offer

See the Northern Lights
FlyCruise: Bergen, Alesund, Geirangerfjord, Trondheim, Lofoten Islands, Tromso, Honningsvag, Kirkenes, Hammerfest, Tromso, Vesteralen, Lofoten Islands, Torghatten, Trondheim, Kristiansund, Bergen
MS Finnmarken
12th Feb 2014 for 11nts
NOW:
Full
£1479
Full
View Offer

Return Flights and Transfers Included
FlyCruise: Tromso, Honningsvag, Kirkenes, Hammerfest, Tromso (Overnight)
ms Nordnorge
16th Feb 2014 for 4nts
NOW:
£1019
£1120
Full
View Offer

See the Northern Lights
FlyCruise: Bergen, Alesund, Geirangerfjord, Trondheim, Lofoten Islands, Tromso, Honningsvag, Kirkenes, Hammerfest, Tromso, Vesteralen, Lofoten Islands, Torghatten, Trondheim, Kristiansund, Bergen
MS Finnmarken
23rd Feb 2014 for 11nts
NOW:
Full
£1479
Full
View Offer

Return Flights and Transfers Included
FlyCruise:
ms Nordnorge
27th Feb 2014 for 11nts
NOW:
£1479
£1597
Full
View Offer

Return Flights and Transfers Included
FlyCruise: Tromso, Honningsvag, Kirkenes, Hammerfest, Tromso (Overnight)
ms Lofoten
2nd Mar 2014 for 4nts
NOW:
£1019
£1120
Full
View Offer

See the Northern Lights
FlyCruise: Bergen, Alesund, Geirangerfjord, Trondheim, Lofoten Islands, Tromso, Honningsvag, Kirkenes, Hammerfest, Tromso, Vesteralen, Lofoten Islands, Torghatten, Trondheim, Kristiansund, Bergen
MS Finnmarken
6th Mar 2014 for 11nts
NOW:
Full
£1479
Full
View Offer

Return Flights and Transfers Included
FlyCruise:
ms Richard With
9th Mar 2014 for 4nts
NOW:
£1019
£1120
Full
View Offer

See the Northern Lights
FlyCruise: Tromso, Honningsvag, Kirkenes, Hammerfest, Tromso (Overnight)
ms Nordkapp
16th Mar 2014 for 4nts
NOW:
£999
£1100
Full
View Offer

See the Northern Lights
FlyCruise:
ms Nordnorge
21st Mar 2014 for 11nts
NOW:
£1479
£1597
Full
View Offer

Return Flights and Transfers Included
FlyCruise:
ms Nordnorge
1st Apr 2014 for 11nts
NOW:
£1713
£1970
Full
View Offer

Return Flights and Transfers Included
FlyCruise:
ms Nordnorge
12th Apr 2014 for 11nts
NOW:
£1713
£1970
Full
View Offer

Return Flights and Transfers Included
FlyCruise:
ms Nordnorge
23rd Apr 2014 for 11nts
NOW:
£1982
£2294
Full
View Offer

Return Flights and Transfers Included
FlyCruise:
ms Nordnorge
15th May 2014 for 11nts
NOW:
£1982
£2294
Full
View Offer

Return Flights and Transfers Included
FlyCruise:
ms Nordnorge
26th May 2014 for 11nts
NOW:
£1982
£2294
Full
View Offer

Return Flights and Transfers Included
FlyCruise:
ms Nordnorge
6th Jun 2014 for 11nts
NOW:
£2112
£2427
Full
View Offer

Return Flights and Transfers Included