Disney Photos
Disney Cruises Ships
Top 10 Disney Cruises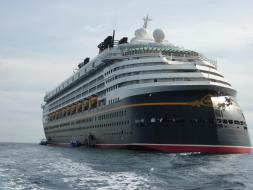 View more or submit your own cruise photos
159,248 Opinions
Disney HAS the Magic
Disney Cruises / Disney Magic /
BAHAMAS
By Dee, Stalybridge on 27th Feb 2014
Just returned from a Disney Magic Cruise to the Bahamas. Cruising from Port Canaveral the port its self is all Disney, they have their own cruise terminal which was well organised. Inside Mickey or Minnie come out to great guests and have photos taken...
Read More >>
325 Views
8 of 9 found this useful

best holiday
Disney Cruises / Disney Magic /
MEDITERRANEAN
By nattress, shotton colliery , durham on 25th Feb 2014
Hi , My family and i took a cruise round the med in september 2013, on the disney magic there are 4 of us , one 5yr old and one 17 ,and it cost £2300 , money well spent it was fantastic, the kids loved it there was so much for them to do they refused...
Read More >>
844 Views
3 of 5 found this useful

Disney Magic from Barcelona
Disney Cruises / Disney Magic /
Europe
By mackle, blackpool on 23rd Feb 2014
We sailed on the Magic in September 2013 from Barcelona on the last cruise in Europe for the season. We spent approx £3000 including flights for 2 adults and 2 children age 10 and 8 for a week. As it was Disney and quite expensive compared to...
Read More >>
2359 Views
7 of 8 found this useful

View more latest reviews