Date, Region, Line & Ship:


(last updated
Dec 10 2013 10:07AM)

For travellers who want to experience luxury without being on a relatively small cruise, Crystal Cruises is perfect. Both of the vessels in Crystal's fleet hold over 900 guests, but yet still have a unique feel that takes your breath away.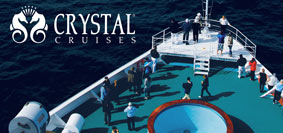 Despite holding over 900 guests on both the Crystal Serenity and Crystal Symphony cruise liners, Crystal Cruises has the highest space to guest ratio on the seas, so you'll never feel crowded. Between the Serenity and the Symphony, they journey to the Caribbean, Americas, Australasia, the Far East and much more.

Dining on a Crystal Cruise is an experience full of choice. Guests can choose to dine casually at the glorious poolside, or sit down for a formal meal in the elegant restaurant. Crystal Cruises offer a wide range of cuisine, from Italian to Asian fare, all cooked by expert chefs on board. Fancy a night in? Staff are more than happy to deliver your gourmet meal directly to your magnificent stateroom.

Crystal Cruises are well known for their amazing Broadway-style shows. Created and produced by their very own creative production team, the shows are a delight and often complete sell-outs. Make sure you get to the theatre early to witness the most incredible talent on the oceans.

For guests that want to relax and unwind, Crystal Cruises have amazing spa facilities that have breathtaking views of the surrounding scenery. Spend your days being pampered, working out in the gym or strolling on the huge promenade deck. If relaxing isn't your thing, then head to the shops and spend your hard earned money on beautiful gifts, perfume and more. Maybe head to the cinema to watch the latest film or read a book in the ornate, quiet library onboard.

Crystal Cruises are perfect for families, couples and singles. If you're celebrating your honeymoon or otherwise, these cruises really are for you. Speak to one of our experienced, knowledgeable Cruise Experts today to book your place on a Crystal Cruise in 2013 & 2014.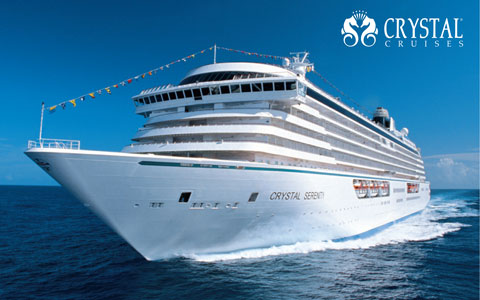 Crystal Cruises was founded in 1988 by Nippon Yusen Kaisha (NYK), the world's largest freighter and transportation Logistics Company, with a fleet that encompasses more than 700 ships. The American-managed company is based in Century City, Los Angeles. Crystal Harmony, the company's first ship, was built in Japan, and debuted in New York in May 1990 to great acclaim. Meanwhile, Crystal Cruises introduced two new ships, Crystal Symphony in 1995, and Crystal Serenity in 2000, one built in Finland, the other in France.