Crystal Cruises Ships
On Board
Top 10 Crystal Cruises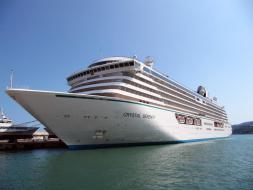 View more or submit your own cruise photos
159,183 Opinions
Brazilian Serenade
Crystal Cruises / Crystal Symphony /
SOUTH AMERICA
By Levy, Radlett on 27th Dec 2013
We sailed from Miami and stayed for a couple of nights at the Intercontinental Hotel which is just by the port. The hotel is excellent and in an ideal position if you are taking a cruise. In fact when our ship came into port you could see it from the hotel...
Read More >>
252 Views
2 of 4 found this useful

Stylish Crystal luxury.
Crystal Cruises / Crystal Serenity /
TRANSATLANTIC
By Higgins, Rolleston on 26th Dec 2013
A luxury transatlantic crossing on Crystal Serenity was the perfect antidote to the gloom of a U.K winter. After a delightful 2days in Barcelona, we embarked on this lovely vessel, the process taking minutes, and soon found ourselves enjoying a...
Read More >>
313 Views
5 of 7 found this useful

Crystal Symphony - Americas first Cities
Crystal Cruises / Crystal Symphony /
CARIBBEAN
By angel , York on 7th Dec 2013
Embarkation was from New York Port of Manhattan for this 14 night cruise down the US eastern Seaboard and then into the Caribbean.The terminal is an easy and relatively inexpensive taxi ride from Midtown areas of the the city...
Read More >>
236 Views
4 of 5 found this useful

View more latest reviews