Date, Region, Line & Ship:


(last updated
Dec 10 2013 10:07AM)
Azamara cruises are friendly, relaxed, sophisticated and unmissable. Enjoy the personal touch of having 1 member of staff to every two guests and absorb the outstanding service of Azamara's international officers and staff that are working at your every need. Azamra offers value that you can see, taste and touch with included spirits, beers and wines and a shuttle service at port destinations as well as much more. Travel the smallest corners of the globe on an Azamara voyage and never lookback.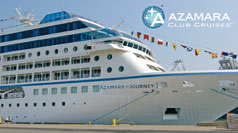 Azamara; travel to a much wider choice of ports than any other cruise line. Well known for their special insights into the traditions, heritage and the local environment of each and every destination; Azamara allow you to relax and gain an education of your beautiful surroundings. Over half of the ports offer late night or overnight stays to give you more time to discover your destination.
On an Azamara cruise almost every daily need you may have is catered for with select spirits, beers and wines included in the price as well as a laundry service, bottled water, coffees and teas.
Azamara Club Cruises are intrinsically designed with the finest exterior, resembling the finest boutique hotels with much more. The majority of the cabins feature a balcony, and suite guests having the service of English butler service compliments of Azamara Club Cruises.

Azamara Club Cruises are also known for their luxurious spa treatments. As well as an extensive selection of in-suite treatments, acupuncture, great facials and more are all available in the stunning on board spa suite.

You can enjoy a fly and cruise holiday to Hawaii, South America, the Caribbean, Asia, and stunning Panama Canal with Azamara Club Cruises. And, if you're a motor-racing fan; Azamara also offer a Formula One cruise to the Monaco Grand Prix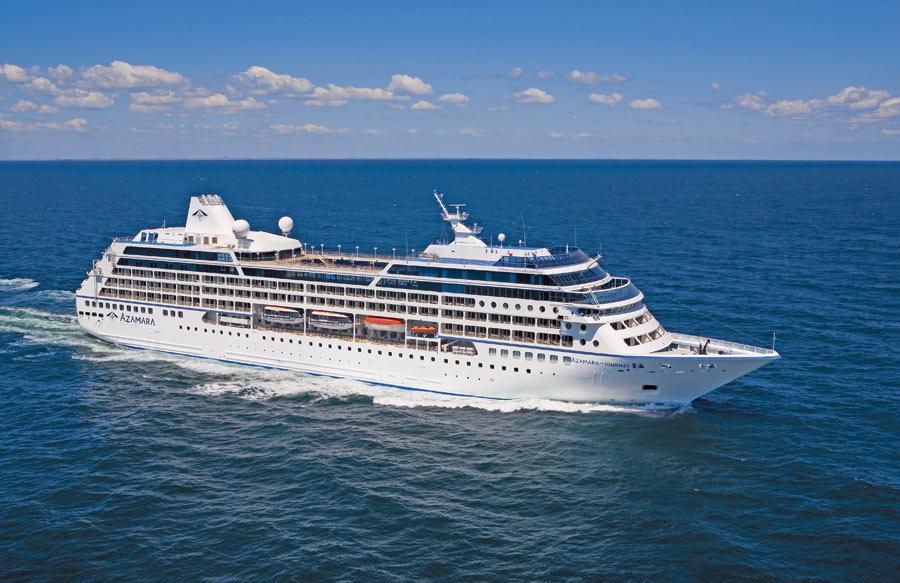 Azamara Club Cruises History
In something of a surprise move, parent company Royal Caribbean International announced the formation of an all-new, deluxe cruise line in 2007. Two vessels originally built for now-defunct Renaissance Cruises wee acquired and were originally to sail under the Celebrity Cruises brand alongside Celebrity Expedition. However because the ships were so distinct it was decided that they deserved a brand of their own and therefore became Azamara Cruises. In 2010 they were rebranded as Azamara Club Cruises and received a $25m refurbishment. Focusing on 'destination immersion' they offer exotic destination-driven itineraries. Azamara Club Cruises presents a more intimate onboard experience while allowing access to the less travelled ports of call experienced travellers want to visit.

Miami, Florida : Charlotte Amalie, St. Thomas : Charlotte Amalie, St. Thomas : St. John, U.S.Virgin Islands : Virgin Gorda, B.V.I. : Gustavia, St. Barts : Marigot, Saint Martin : San Juan, Puerto Rico
Azamara Quest
20th Dec 2013 for 8nts
NOW:
Full
Full
Full
View Offer.

New! More Inclusive On Board Experience
FREE Drinks
FREE Azamara Evening Ashore
FREE Gratuities
FlyCruise: San Juan, St. John, Us Virgin Islands, St Maarten, Gustavia, St Barts, Gustavia, St Barts, Charlestown, Nevis, Virgin Gorda, At Sea, At Sea, Miami
Azamara Quest
28th Dec 2013 for 8nts
NOW:
Full
Full
Full
View Offer

New! More Inclusive On Board Experience
FREE Drinks
FREE Azamara Evening Ashore
FREE Gratuities
CruiseOnly: San Juan, St. John, Us Virgin Islands, St Maarten, Gustavia, St Barts, Gustavia, St Barts, Charlestown, Nevis, Virgin Gorda, At Sea, At Sea, Miami
Azamara Quest
28th Dec 2013 for 8nts
NOW:
£1853
Full
Full
View Offer

New! More Inclusive On Board Experience
FREE Drinks
FREE Azamara Evening Ashore
FREE Gratuities
Miami, Florida : Cartagena, Colombia : Panama Canal (Cruising) : Fuerte Amador, Panama : Fuerte Amador, Panama : Golfito, Costa Rica : Golfito, Costa Rica : Quepos, Costa Rica : Caldera, Costa Rica
Azamara Quest
5th Jan 2014 for 10nts
NOW:
£1841
£2156
Full
View Offer.

New! More Inclusive On Board Experience
FREE Drinks
FREE Azamara Evening Ashore
FREE Gratuities
Caldera, Costa Rica : Puntarenas, Costa Rica : Puntarenas, Costa Rica : San Juan Del Sur, Nicaragua : Acajutla, El Salvador : Puerto Quetzal,Guatemala : Puerto Chiapas, Mexico : Huatulco, Mexico : Manzanillo, Mexico : Puerto Vallarta, Mexico : Cabo San Lucas, Mexico : Cabo San Lucas, Mexico : Los Angeles, California
Azamara Quest
15th Jan 2014 for 14nts
WAS:
£3588
£3840
£4344
View Offer.
NOW:
£1359
£1799
£2349

Reduced Flight Prices

New! More Inclusive On Board Experience
FREE Drinks & Gratuities
FREE Azamara Evening Ashore
Los Angeles, California : Mazatlan, Mexico : La Paz, Mexico : Topolobampo, Mexico : Guaymas,Mexico : Loreto, Mexico : Loreto, Mexico : Cabo San Lucas, Mexico : Los Angeles, California
Azamara Quest
29th Jan 2014 for 12nts
WAS:
£3246
£3498
£4002
View Offer.
NOW:
Full
Full
Full

Reduced Flight Prices

New! More Inclusive On Board Experience
FREE Drinks & Gratuities
FREE Azamara Evening Ashore
Los Angeles, California : Santa Barbara, California : Monterey, California : San Francisco, California : San Francisco, California : San Francisco, California : Ensenada, Mexico : Los Angeles, California
Azamara Quest
10th Feb 2014 for 8nts
WAS:
£2521
£2710
£3214
View Offer.
NOW:
£1063
£1243
£1683

Reduced Flight Prices

New! More Inclusive On Board Experience
FREE Drinks & Gratuities
FREE Azamara Evening Ashore
Los Angeles, California : Cabo San Lucas, Mexico : Cabo San Lucas, Mexico : Manzanillo, Mexico : Ixtapa (Zihuatanejo), Mexico : Huatulco, Mexico : Puerto Quetzal,Guatemala : Acajutla, El Salvador : San Juan Del Sur, Nicaragua : Caldera, Costa Rica : Caldera, Costa Rica
Azamara Quest
18th Feb 2014 for 14nts
WAS:
£3497
£3749
£4190
View Offer.
NOW:
£1459
£1889
£2449

Reduced Flight Prices

New! More Inclusive On Board Experience
FREE Drinks & Gratuities
FREE Azamara Evening Ashore
Caldera, Costa Rica : Fuerte Amador, Panama : Panama Canal (Cruising) : Puerto Limon, Costa Rica : New Orleans, Louisiana : New Orleans, Louisiana : Key West, Florida : Miami, Florida
Azamara Quest
4th Mar 2014 for 12nts
WAS:
£3519
£3708
£4212
View Offer.
NOW:
£1269
£1459
£3174

Reduced Flight Prices

New! More Inclusive On Board Experience
FREE Drinks & Gratuities
FREE Azamara Evening Ashore
Miami, Florida : St. John, U.S.Virgin Islands : Iles Des Saintes, Guadeloupe : Roseau, Dominica : Gustavia, St. Barts : Charlestown, Nevis : Virgin Gorda, B.V.I. : Miami, Florida
Azamara Quest
16th Mar 2014 for 11nts
WAS:
£2789
£2915
View Offer.
NOW:
£2049
£2175
£2805

Reduced Flight Prices

New! More Inclusive On Board Experience
FREE Drinks & Gratuities
FREE Azamara Evening Ashore
Nice, France : Rome (Civitavecchia), Italy : Rome (Civitavecchia), Italy : Sorrento, Italy : Sorrento, Italy : Siracusa, Sicily : Valletta, Malta : Trapani, Sicily : Florence/Pisa(Livorno),Italy : Florence/Pisa(Livorno),Italy : Nice, France
Azamara Quest
11th Apr 2014 for 11nts
WAS:
£2490
£2742
£3246
View Offer.
NOW:
£2301
£2551
£3051

New! More Inclusive On Board Experience
FREE Drinks
FREE Azamara Evening Ashore
FREE Gratuities
Rome (Civitavecchia), Italy : Porto Vecchio,Corsica,France : Siracusa, Sicily : Giardini Naxo Taormina,Italy : Sorrento, Italy : Sorrento, Italy : Rome (Civitavecchia), Italy
Azamara Quest
30th Apr 2014 for 7nts
WAS:
£1828
£1954
£2269
View Offer.
NOW:
£1552
£1678
£2056

FREE Flights


New! More Inclusive On Board Experience
FREE Drinks & Gratuities
FREE Azamara Evening Ashore
Rome (Civitavecchia), Italy : Bastia, Corsica : Florence/Pisa(Livorno),Italy : Florence/Pisa(Livorno),Italy : Monte Carlo, Monaco : Monte Carlo, Monaco : St.Tropez, France : Provence(Marseilles), France : Barcelona, Spain : Barcelona, Spain
Azamara Quest
7th May 2014 for 8nts
WAS:
£2056
£2245
£2749
View Offer.
NOW:
£1813
£2002
£2443

FREE Flights


New! More Inclusive On Board Experience
FREE Drinks & Gratuities
FREE Azamara Evening Ashore
Barcelona, Spain : Roses(Figueres/Girona),Spain : Provence(Marseilles), France : Provence(Marseilles), France : Sanary Sur Mer, France : Calvi, Corsica : Portofino, Italy : Monte Carlo, Monaco : Nice, France
Azamara Quest
15th May 2014 for 7nts
WAS:
£1782
£1908
£2223
View Offer.
NOW:
£1586
£1712
£2027

FREE Flights


New! More Inclusive On Board Experience
FREE Drinks & Gratuities
FREE Azamara Evening Ashore
Nice, France : Monte Carlo, Monaco : Florence/Pisa(Livorno),Italy : Florence/Pisa(Livorno),Italy : Elba (Portoferraio), Italy : Olbia (Porto Cervo), Italy : Porto Vecchio,Corsica,France : Rome (Civitavecchia), Italy
Azamara Quest
26th May 2014 for 7nts
WAS:
£1861
£1987
£2365
View Offer.
NOW:
£1560
£1686
£2127

FREE Flights


New! More Inclusive On Board Experience
FREE Drinks & Gratuities
FREE Azamara Evening Ashore
Rome (Civitavecchia), Italy : Sorrento, Italy : Siracusa, Sicily : Chania, Crete, Greece : Santorini, Greece : Patmos, Greece : Ephesus (Kusadasi), Turkey : Dikili, Turkey : Istanbul, Turkey : Istanbul, Turkey
Azamara Quest
2nd Jun 2014 for 10nts
WAS:
£2936
£3125
£3692
View Offer.
NOW:
£2520
£2709
£3213

New! More Inclusive On Board Experience
FREE Drinks
FREE Azamara Evening Ashore
FREE Gratuities
Istanbul, Turkey : Nessebar, Bulgaria : Constanta, Romania : Odessa, Ukraine : Sevastopol, Ukraine : Yalta, Ukraine : Bosphorus Strait (Cruising) : Mount Athos,Greece(Cruising) : Skiathos, Greece : Skiathos, Greece : Athens (Piraeus), Greece
Azamara Quest
12th Jun 2014 for 9nts
WAS:
£2992
£3244
£3685
View Offer.
NOW:
£2361
£2613
£3054

New! More Inclusive On Board Experience
FREE Drinks
FREE Azamara Evening Ashore
FREE Gratuities
Athens (Piraeus), Greece : Mykonos, Greece : Ephesus (Kusadasi), Turkey : Kos, Greece : Rhodes, Greece : Rhodes, Greece : Marmaris, Turkey : Santorini, Greece : Athens (Piraeus), Greece
Azamara Quest
21st Jun 2014 for 7nts
WAS:
£2488
£2614
£2929
View Offer.
NOW:
£1898
£2024
£2465

FREE Flights and FREE Pre-Cruise Hotel Stay


New! More Inclusive On Board Experience
FREE Drinks & Gratuities
FREE Azamara Evening Ashore
Athens (Piraeus), Greece : Chania, Crete, Greece : Kotor, Montenegro : Dubrovnik, Croatia : Korcula, Croatia : Venice, Italy : Venice, Italy
Azamara Quest
28th Jun 2014 for 7nts
WAS:
£2208
£2397
£2775
View Offer.
NOW:
£1623
£1812
£2190

FREE Flights and FREE Pre-Cruise Hotel Stay


New! More Inclusive On Board Experience
FREE Drinks & Gratuities
FREE Azamara Evening Ashore
Venice, Italy : Zadar, Croatia : Croatia Inside Passage : Split, Croatia : Split, Croatia : Hvar, Croatia : Hvar, Croatia : Kotor, Montenegro : Dubrovnik, Croatia : Venice, Italy : Venice, Italy
Azamara Quest
5th Jul 2014 for 7nts
WAS:
£2121
£2247
£2688
View Offer.
NOW:
£1751
£1877
Full

FREE Flights


New! More Inclusive On Board Experience
FREE Drinks & Gratuities
FREE Azamara Evening Ashore
Venice, Italy : Korcula, Croatia : Dubrovnik, Croatia : Kotor, Montenegro : Kotor, Montenegro : Parga, Greece : Giardini Naxo Taormina,Italy : Amalfi, Italy : Amalfi, Italy : Capri, Italy : Rome (Civitavecchia), Italy
Azamara Quest
12th Jul 2014 for 8nts
WAS:
£2451
£2640
£3081
View Offer.
NOW:
£1999
£2188
£2692

FREE Flights


New! More Inclusive On Board Experience
FREE Drinks & Gratuities
FREE Azamara Evening Ashore