Top 10 Saga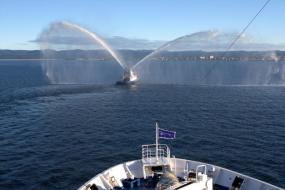 View more or submit your own cruise photos
159,208 Opinions
Loved our first Saga experience.
Saga / Saga Sapphire /
MEDITERRANEAN
By Calder, Henley in Arden on 1st Nov 2013
We loved Saga ! After many cruises on similar ships, ie British market from home ports, smaller ships etc. we were unsure about Saga and thought that it could possibly not be our cup of tea. We were wrong. It is very difficult to find something...
Read More >>
444 Views
10 of 12 found this useful

CLASSICAL CITIES OF THE MEDITERRANEAN
Saga / Saga Ruby /
MEDITERRANEAN
By Edmonds, SHERBORNE on 28th Oct 2013
My first ever cruise was onboard the Cunard Liner 'CARONIA' 15 years ago and so when the opportunity arose to sail onboard her again in her final ever season at a bargain price, I leapt at the chance. She was the last ever passenger liner to be built in...
Read More >>
348 Views
10 of 11 found this useful

Coast to Coast
Saga / Saga Ruby /
BRITISH ISLES
By Norman, Bridgend on 6th Oct 2013
Ruby on the Ruby SAGA Ruby Coastal Voyager 16th August 2013. Full of oldies, boring, stuck in the past. Sure the ship is old (40 years to be precise, launched in the same year we were married hence Ruby on the Ruby) but has that sort of inbuilt elegance...
Read More >>
328 Views
12 of 13 found this useful

View more latest reviews