Latest Photos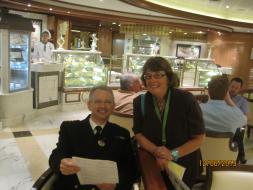 View more or submit your own cruise photos
159,219 Opinions
Beautiful ship - but too quiet at night
Princess Cruises / Royal Princess /
MEDITERRANEAN
By Scougall, RENFREW on 8th Mar 2014
Having booked our specific cabin we were disappointed - to say the least - that when checking in we found out we had been allocated a different cabin! After a very lengthy - and at times heated - argument we eventually managed to get checked in to...
Read More >>
522 Views
4 of 8 found this useful

Cunard Victoria and Royal Princess
Princess Cruises / Royal Princess /
CARIBBEAN
By Kelly, Mevagissey, Cornwall on 24th Jan 2014
Just returned from a two ship cruise, first leg on Cunard Victoria which was a first for us. Cabin was very spacious and well equipped, the best interior room we have stayed in. The food and service in the restaurant was excellent under severe weather...
Read More >>
529 Views
3 of 3 found this useful

View more latest reviews
By Iles, Milford on Sea on 07 Sep
By Lim, Riverton on 15 Aug
By Woolhead, Southminster on 26 Aug
See latest Q&A