Latest Photos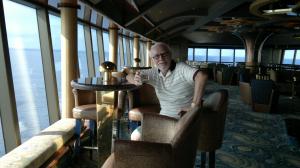 View more or submit your own cruise photos
159,234 Opinions
WINTER IN THE CARIBBEAN
P&O Cruises / Ventura /
CARIBBEAN
By Ward, Edinburgh on 10th Mar 2014
We have just returned from a 14 night Caribbean cruise on P & O's Ventura. The weather was good with very little rain. The ship holds over 3,000 passengers but as it is quite large it never seems to be too full except at the pool areas where trying to...
Read More >>
24 Views
1 of 1 found this useful

Northern Light Spectacular
Fred. Olsen Cruises / Boudicca /
NORWEGIAN FJORDS
By Pillow, Winchester on 10th Mar 2014
Just returned from a most excellent 15-night trip to Norway to see the Northern Lights on the lovely Boudicca. Norway is a beautiful country and I went on a fabulous range of excursions, and because the ship spent a long time in each port, also had time to go...
Read More >>
68 Views
2 of 2 found this useful

View more latest reviews