Latest Photos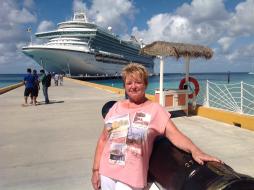 View more or submit your own cruise photos
159,259 Opinions
Don't waste your money....family un-friendly ship
P&O Cruises / Ventura /
MINI CRUISES
By Levett, Bexhill on Sea on 11th Mar 2014
Where do I start? We boarded the Ventura 27th May for a 4 night family break with great excitement. To our disbelief the main Laguna Pool was empty of water and completely netted off, wondering around in the glorious sunshine we found the...
Read More >>
10 Views

MSC armonia canaries
MSC Cruises / MSC Armonia /
CANARIES
By booth, nottingham on 11th Mar 2014
Overall very good, shows excellent, had all inclusive package which was good, sometimes a long wait for drinks probably because of this. we found the restaurant much better and quicker than the buffet for us for all meals, found the buffet very...
Read More >>
31 Views
1 of 1 found this useful

View more latest reviews