Date, Region, Line & Ship:


(last updated
Dec 06 2013 09:14AM)

Ever got a nasty shock when you've seen your bill at the end of a cruise?

Are you constantly checking the price of drinks before deciding what to have?

Not sure how much you are expected to tip for the service you receive?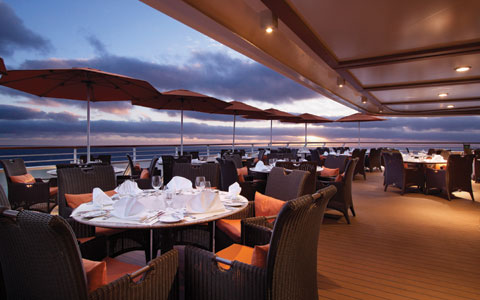 Why not take away all of these worries by choosing an all-inclusive cruise? Remember, with an all-inclusive cruise, it isn't what you pay to get on your cruise but what you pay to get off…

More often then not luxury cruise lines offer all-inclusive prices, which at first sight will explain why they are much more expensive than other cruise lines.

If you break down the price of an all-inclusive cruise you will realise that many offer fantastic value for money. Drinks, meals and gratuities are all included, with some packages including excursions or transportation at your ports of call. The onboard experience benefits with open bars and no gratuities expected, as the relationship of service staff with the guests is sincerely helpful and free of any ulterior agenda.

This is why when considering an all-inclusive cruise it is best to bear in mind that it isn't what you pay to get on the cruise, it's what you pay to get off. Whilst the initial cost of an all-inclusive cruise may be higher, when you look at what you get included, it very quickly compares to a non-all-inclusive cruise as fantastic value for money.

Have you ever got a nasty shock at the end of your cruise when you see your final on-board account? With a luxury, all-inclusive cruise, you can very often disembark with very little or even nothing on your final bill. When you think of it this way, an all-inclusive cruise quickly becomes the best value, most attractive experience.

The moment you step onboard for your holiday you can relax and enjoy the fine food and fancy cocktails being served to you without giving a thought to the cost.

All-inclusive holidays have certainly increased in popularity over the past few years, and they are no longer just confined to luxury holidays or far-flung destinations.

Cruise lines which offer all-inclusive deals include: Seabourn, Azamara Club Cruises, Regent Seven Seas, SeaDream Yacht Club and Silversea.

All-inclusive allows you to:
- budget for your cruise in advance and pay for the whole experience before you travel
- relax and enjoy drinks, meals, and little treats without worrying about the cost
- not worry about how much or who to tip
- enjoy your cruise without constantly signing a bill every time you have a drink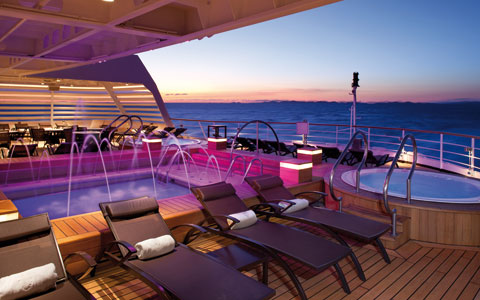 What do the different cruise lines offer?
Regent Seven Seas



With Regent, it's all included. Enjoy drinks, dining, gratuities, unlimited shore excursions, flights, transfers and butler service in Penthouse accommodation and above.




SeaDream Yacht Club



Includes accommodation, dining, drinks and gratuities.




Yachts of Seabourn



The Seabourn Difference includes accommodation, dining, fine wines poured at lunch and dinner, open bars throughout the yacht, your in-suite mini-bar stocked with your preferences and gratuities.




Silversea



Includes accommodation, dining, drinks, gratuities, 24 hour room service, transportation into most ports of call, your in-suite bar stocked with your preferences and replenished upon request and butler service in every suite.




Azamara Club Cruises



Azamara have listened to their guest feedback and now offer a 'more-inclusive experience. This includes free soft drinks, complimentary wine with lunch and dinner, gratuities and complimentary shuttle bus in each port, wherever possible.




Crystal Cruises



Crystal currently offer 'all-incluisve as you wish' on board credit on every sailing. This means that you will be given anything between $500 and $2000 on board credit depending on the sailing to go 'all-inclusive' in your own style. This on board credit means that you can spend your money on what you prefer - drinks, gratuities, spa treatments etc. However, from 2012, Crystal is joining its competitors and going all-inclusive in the more traditional way. This means that drinks, gratuities, all dining and shuttle buses into town are all included.




MSC



Different levels of all-inclusive packages. MSC Yacht Club suites are all-inclusive of drinks and all dining.


Other cruise lines such as Celebrity and Thomson have all-inclusive drinks packages which you can add onto your cruise.



Not included in an All-inclusive cruise:


* Casino spending
* Gift shop purchases
* Some premium wines & liquors
* Spa treatments
* Speciality restaurants
* Shore excursions


Miami, Florida : Cartagena, Colombia : Panama Canal (Cruising) : Fuerte Amador, Panama : Fuerte Amador, Panama : Golfito, Costa Rica : Golfito, Costa Rica : Quepos, Costa Rica : Caldera, Costa Rica
Azamara Quest
5th Jan 2014 for 10nts
NOW:
£1841
Full
Full
View Offer.

New! More Inclusive On Board Experience
FREE Drinks
FREE Azamara Evening Ashore
FREE Gratuities
Caldera, Costa Rica : Puntarenas, Costa Rica : Puntarenas, Costa Rica : San Juan Del Sur, Nicaragua : Acajutla, El Salvador : Puerto Quetzal,Guatemala : Puerto Chiapas, Mexico : Huatulco, Mexico : Manzanillo, Mexico : Puerto Vallarta, Mexico : Cabo San Lucas, Mexico : Cabo San Lucas, Mexico : Los Angeles, California
Azamara Quest
15th Jan 2014 for 14nts
WAS:
£3588
£3840
£4344
View Offer.
NOW:
£1359
£1799
£2349

Reduced Flight Prices

New! More Inclusive On Board Experience
FREE Drinks & Gratuities
FREE Azamara Evening Ashore
Hong Kong, China : Hanoi (Halong Bay),Vietnam : Hanoi (Halong Bay),Vietnam : Hue (Danang), Vietnam : Ho Chi Minh City, Vietnam : Bangkok(Klong Toey),Thailand : Bangkok(Klong Toey),Thailand : Bangkok(Klong Toey),Thailand : Ko Samui, Thailand : Singapore
Azamara Journey
21st Jan 2014 for 13nts
WAS:
£3065
View Offer.
NOW:
£1983
Full
Full

Reduced Flight Prices and 25% Single Supplement

New! More Inclusive On Board Experience
FREE Drinks & Gratuities
FREE Azamara Evening Ashore
Los Angeles, California : Mazatlan, Mexico : La Paz, Mexico : Topolobampo, Mexico : Guaymas,Mexico : Loreto, Mexico : Loreto, Mexico : Cabo San Lucas, Mexico : Los Angeles, California
Azamara Quest
29th Jan 2014 for 12nts
WAS:
£3246
£3498
£4002
View Offer.
NOW:
Full
£1689
£2429

Reduced Flight Prices

New! More Inclusive On Board Experience
FREE Drinks & Gratuities
FREE Azamara Evening Ashore
Singapore : Ko Samui, Thailand : Bangkok(Klong Toey),Thailand : Bangkok(Klong Toey),Thailand : Bangkok(Klong Toey),Thailand : Ho Chi Minh City, Vietnam : Ho Chi Minh City, Vietnam : Hue (Danang), Vietnam : Hanoi (Halong Bay),Vietnam : Hanoi (Halong Bay),Vietnam : Hong Kong, China
Azamara Journey
3rd Feb 2014 for 14nts
WAS:
£3889
£4104
View Offer.
NOW:
£2836
£3051
£3618

Reduced Flight Prices and 25% Single Supplement

New! More Inclusive On Board Experience
FREE Drinks & Gratuities
FREE Azamara Evening Ashore
Los Angeles, California : Santa Barbara, California : Monterey, California : San Francisco, California : San Francisco, California : San Francisco, California : Ensenada, Mexico : Los Angeles, California
Azamara Quest
10th Feb 2014 for 8nts
WAS:
£2521
£2710
£3214
View Offer.
NOW:
£1063
£1243
£1683

Reduced Flight Prices

New! More Inclusive On Board Experience
FREE Drinks & Gratuities
FREE Azamara Evening Ashore
Hong Kong, China : Hong Kong, China : Xiamen, China : Taipei(Keelung),Taiwan : Ishigaki, Japan : Okinawa, Japan : Tokyo, Japan : Tokyo, Japan : Kyoto (Osaka), Japan : Kyoto (Osaka), Japan : Cruising The Inland Sea : Shanghai, China
Azamara Journey
17th Feb 2014 for 14nts
WAS:
£3577
£3892
£4396
View Offer.
NOW:
£2692
£3007
£3448

Reduced Flight Prices and 25% Single Supplement

New! More Inclusive On Board Experience
FREE Drinks & Gratuities
FREE Azamara Evening Ashore
Los Angeles, California : Cabo San Lucas, Mexico : Cabo San Lucas, Mexico : Manzanillo, Mexico : Ixtapa (Zihuatanejo), Mexico : Huatulco, Mexico : Puerto Quetzal,Guatemala : Acajutla, El Salvador : San Juan Del Sur, Nicaragua : Caldera, Costa Rica : Caldera, Costa Rica
Azamara Quest
18th Feb 2014 for 14nts
WAS:
£3497
£3749
£4190
View Offer.
NOW:
£1459
£1889
£2449

Reduced Flight Prices

New! More Inclusive On Board Experience
FREE Drinks & Gratuities
FREE Azamara Evening Ashore
Shanghai, China : Shanghai, China : Busan, South Korea : Cruising The Inland Sea : Hiroshima, Japan : Hiroshima, Japan : Takamatsu, Japan : Kobe, Japan : Kagoshima, Japan : Taipei(Keelung),Taiwan : Hualien, Taiwan : Hong Kong, China
Azamara Journey
3rd Mar 2014 for 14nts
WAS:
£3869
£4184
£4688
View Offer.
NOW:
£2949
£3259
£3699

Reduced Flight Prices and 25% Single Supplement

New! More Inclusive On Board Experience
FREE Drinks & Gratuities
FREE Azamara Evening Ashore
Caldera, Costa Rica : Fuerte Amador, Panama : Panama Canal (Cruising) : Puerto Limon, Costa Rica : New Orleans, Louisiana : New Orleans, Louisiana : Key West, Florida : Miami, Florida
Azamara Quest
4th Mar 2014 for 12nts
WAS:
£3519
£3708
£4212
View Offer.
NOW:
£1269
£1459
£3237

Reduced Flight Prices

New! More Inclusive On Board Experience
FREE Drinks & Gratuities
FREE Azamara Evening Ashore
Miami, Florida : St. John, U.S.Virgin Islands : Iles Des Saintes, Guadeloupe : Roseau, Dominica : Gustavia, St. Barts : Charlestown, Nevis : Virgin Gorda, B.V.I. : Miami, Florida
Azamara Quest
16th Mar 2014 for 11nts
WAS:
£2789
£2915
View Offer.
NOW:
£2049
£2175
£2805

Reduced Flight Prices

New! More Inclusive On Board Experience
FREE Drinks & Gratuities
FREE Azamara Evening Ashore
Hong Kong, China : Manila, Philippines : Manila, Philippines : Sandakan, Malaysia : Palopo (Sulawesi), Indonesia : Komodo, Indonesia : Benoa, Bali, Indonesia : Benoa, Bali, Indonesia : Semarang, Indonesia : Singapore
Azamara Journey
17th Mar 2014 for 17nts
WAS:
£4508
£4823
£5264
View Offer.
NOW:
£3425
£3740
£4181

25% Single Supplement

New! More Inclusive On Board Experience
FREE Drinks & Gratuities
FREE Azamara Evening Ashore
Singapore : Belawan, Sumatra, Indonesia : Phuket, Thailand : Colombo, Sri Lanka : Cochin, India : Mumbai (Bombay), India : Mumbai (Bombay), India
Azamara Journey
3rd Apr 2014 for 12nts
WAS:
£3070
£3322
£3889
View Offer.
NOW:
£2034
£2286
£2853

25% Single Supplement

New! More Inclusive On Board Experience
FREE Drinks & Gratuities
FREE Azamara Evening Ashore
Nice, France : Rome (Civitavecchia), Italy : Rome (Civitavecchia), Italy : Sorrento, Italy : Sorrento, Italy : Siracusa, Sicily : Valletta, Malta : Trapani, Sicily : Florence/Pisa(Livorno),Italy : Florence/Pisa(Livorno),Italy : Nice, France
Azamara Quest
11th Apr 2014 for 11nts
WAS:
£2490
£2742
£3246
View Offer.
NOW:
£2301
£2551
£3051

New! More Inclusive On Board Experience
FREE Drinks
FREE Azamara Evening Ashore
FREE Gratuities
Mumbai (Bombay), India : Fujairah,United Arab Emirat. : Aqaba, Jordan : Aqaba, Jordan : Safaga, Egypt : Suez Canal (Passage) : Paphos, Cyprus : Athens (Piraeus), Greece
Azamara Journey
15th Apr 2014 for 17nts
WAS:
£3248
£3248
£3657
View Offer.
NOW:
£2606
£2638
£2858

Reduced Flight Prices and 25% Single Supplement

New! More Inclusive On Board Experience
FREE Drinks & Gratuities
FREE Azamara Evening Ashore
Rome (Civitavecchia), Italy : Porto Vecchio,Corsica,France : Siracusa, Sicily : Giardini Naxo Taormina,Italy : Sorrento, Italy : Sorrento, Italy : Rome (Civitavecchia), Italy
Azamara Quest
30th Apr 2014 for 7nts
WAS:
£1828
£1954
£2269
View Offer.
NOW:
£1552
£1678
£2056

FREE Flights


New! More Inclusive On Board Experience
FREE Drinks & Gratuities
FREE Azamara Evening Ashore
Athens (Piraeus), Greece : Paros, Greece : Patmos, Greece : Ephesus (Kusadasi), Turkey : Rhodes, Greece : Paphos, Cyprus : Jerusalem (Ashdod), Israel : Jerusalem (Ashdod), Israel : Haifa, Israel : Athens (Piraeus), Greece
Azamara Journey
2nd May 2014 for 10nts
WAS:
£2747
£2936
£3503
View Offer.
NOW:
Full
£2426
£2993

FREE Flights and FREE Pre-Cruise Hotel Stay


New! More Inclusive On Board Experience
FREE Drinks & Gratuities
FREE Azamara Evening Ashore
Rome (Civitavecchia), Italy : Bastia, Corsica : Florence/Pisa(Livorno),Italy : Florence/Pisa(Livorno),Italy : Monte Carlo, Monaco : Monte Carlo, Monaco : St.Tropez, France : Provence(Marseilles), France : Barcelona, Spain : Barcelona, Spain
Azamara Quest
7th May 2014 for 8nts
WAS:
£2056
£2245
£2749
View Offer.
NOW:
£1813
£2002
£2443

FREE Flights


New! More Inclusive On Board Experience
FREE Drinks & Gratuities
FREE Azamara Evening Ashore
Athens (Piraeus), Greece : Santorini, Greece : Valletta, Malta : Giardini Naxo Taormina,Italy : Sorrento, Italy : Sorrento, Italy : Rome (Civitavecchia), Italy
Azamara Journey
12th May 2014 for 7nts
WAS:
£2140
£2266
£2581
View Offer.
NOW:
£1560
£1686
£2001

FREE Flights and FREE Pre-Cruise Hotel Stay


New! More Inclusive On Board Experience
FREE Drinks & Gratuities
FREE Azamara Evening Ashore
Barcelona, Spain : Roses(Figueres/Girona),Spain : Provence(Marseilles), France : Provence(Marseilles), France : Sanary Sur Mer, France : Calvi, Corsica : Portofino, Italy : Monte Carlo, Monaco : Nice, France
Azamara Quest
15th May 2014 for 7nts
WAS:
£1782
£1908
£2223
View Offer.
NOW:
£1586
£1712
£2027

FREE Flights


New! More Inclusive On Board Experience
FREE Drinks & Gratuities
FREE Azamara Evening Ashore