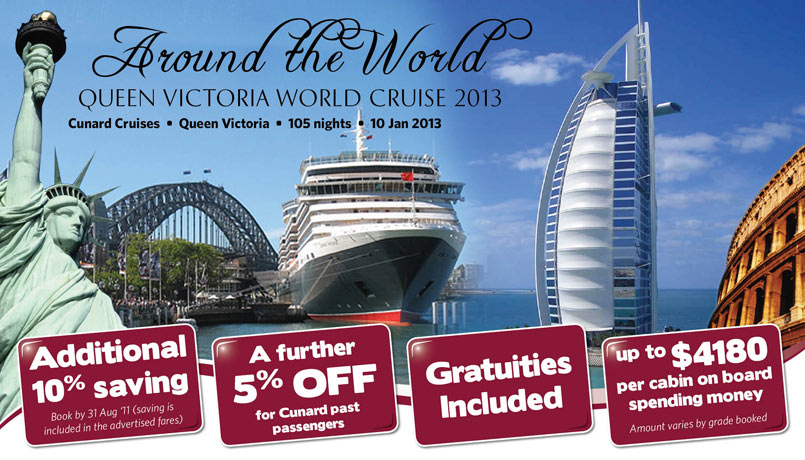 Queen Victoria will depart from her home port in Southampton in January. Her voyage will span across 34 exiting ports in 24 countries in 105 nights, crossing the earth's three oceans, both tropics and the equator – twice – and undertake dramatic passages along two of its most impressive engineering projects – the Panama and Suez canals. Queen Victoria's voyage features overnight stays in Sydney, Hong Kong, Shanghai and Dubai, allowing guests to further explore these iconic destinations. This voyage will also witness four maiden calls for Queen Victoria as she visits Falmouth in Jamaica, Bali, Manila and Sokhna.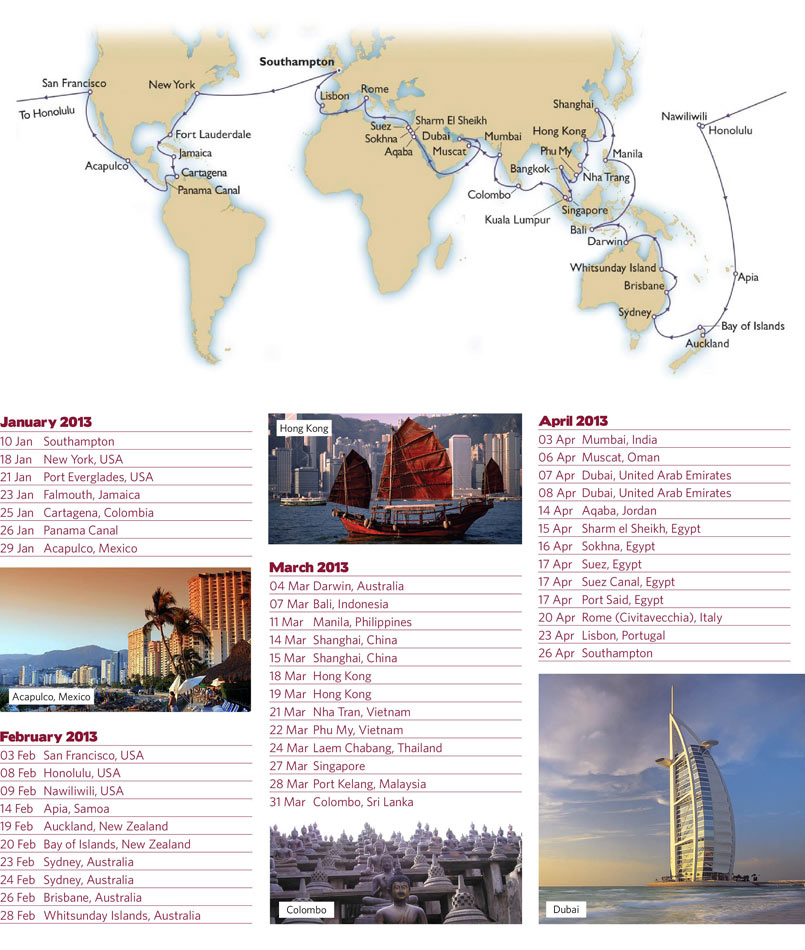 Accommodation
Stylish staterooms fully equipped with en-suite facilities. Special amenities such as half bottle bon voyage wine, satellite TV with multi-language film and music channels, direct dial telephone, fruit basket (on request), hair dryer, safe, refrigerator, 24 hour room service, daily shipboard newspaper, bathrobe and slippers, nightly turndown service with chocolate are all included.


Dining
Served by waiters trained in the art of White Star Service™. As well as the two-tier main restaurant you have a choice of up to 10 different dining venues: enjoy a delicious snack in
Café Carinthia
;intense flavours of the Mediterranean in Todd English; tuck into a pub lunch in the Golden Lion Pub; And with the Lido Restaurant, The Queens Room and 24 hour room service, you will never go hungry.
Entertainment & Leisure
Queen Victoria's many diversions and distractions ensure you are as thoroughly entertained and entirely relaxed as you could wish to be. Discover the marvellous Library with its spiral staircase, the resplendent Royal Court Theatre with the only private boxes at sea and the opulent double height Queens Room. Spend the afternoon in the colonial style Winter Garden with a glass roof that opens to the warm ocean breeze. The Royal Spa comprises breathtaking ocean views, relaxation areas, beautifully appointed treatment rooms, indulgent therapies and a panoramic glass encased Fitness Centre.

Bars & Lounges
Queen Victoria offers up to 10 bars and lounges each offering a unique ambiance and experience. Sip speciality teas and indulge in delicious pastries in Café Carinthia; After dinner, settle into an armchair and savour Cunard's rich worldwide selection of fine cigars and cognacs in Churchill's; with the Britannia Restaurant next door, an elegant pre-dinner cocktail is certainly in order as you relax amongst the decor of the Chart Room's nautically themed lounge and bar; There is also The Commodore Club, Grills Lounge, Golden Lion Pub, Queens Room, The Garden Lounge, The Pavilion and
Hemispsheres where by day you can admire the expansive panoramic views that stretch from horizon to horizon, and by night dance to the beat of the big band and the resident DJ under the splendid glass-domed roof.
Daytime Activities
With such a wide choice of activities available you will have difficultly deciding what to do first. Available on board you have deck sports, a library and book shop, art classes where you can also bid for a fine piece of art, daily crossword puzzles and quizzes, dance instructions and gentlemen dance hosts and stimulating lectures as part of the Cunard Insights programme.

Queen Victoria seamlessly fuses the distinctive Cunard heritage of civilized travel with an array of enticing modern amenities. As you embark, you'll encounter the dramatic three-tier Grand Lobby, whose magnificent staircase and eye-catching artwork offers a lavish taste of life aboard. Walk around the ship and you'll see elaborate chandeliers adorn the Queens Room double height ceiling to enhance its calm grandeur. The Winter Garden is all light and relaxation, very much colonial in tone, with decked floors and leafy foliage – its glass roof even opens to the warm breeze. Elegant and stylish, every public room will create a unique ambience where our renowned White Star Service will continue to surpass expectations.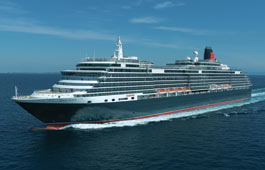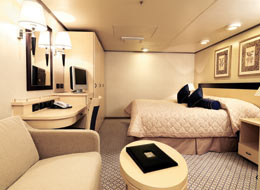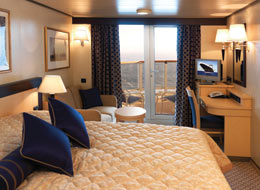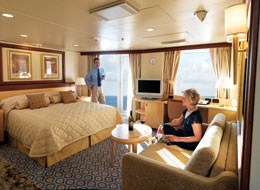 Princess Grill

Stateroom Grade

D8
C4
B5
P3
Q7
10799
11969
15299
33119
38249

To book, check availability or if you have any questions call one of our specialist cruise consultants. Or if you can't find what you are looking for, we'd be more than happy to put something together for you...