Date, Region, Line & Ship:


(last updated
Dec 10 2013 10:07AM)

The best way to experience the amazing and varied scenery of Norway, which has been shaped by the ice age, is by cruise ship. Known as The Land of the Midnight Sun, Norway has 24 hours of sunlight a day during the summer months.

Need some ideas for shore excursions in Norway? Click here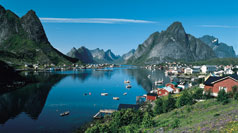 Itineraries include visits to beautiful unspoilt areas of the country. You may even get the chance to see the magical sight of the northern lights, most frequent in late autumn and winter / early spring.

Popular ports of call include:

Oslo - the capital and largest city of Norway, Oslo is a metropolitan city with a variety of things to see and do.

Olden - this is a tiny village at the mouth of the Oldeelva river with a population of around 500. The scenery is simply stunning with the Briksdal valley carving its way from Olden all the way towards the famous Briksdal glacier & the Briksdal lake.

Nordkapp - this is the northernmost point of continental Europe and a great place to experience the midnight sun.

Choose from a number of cruise lines including: Fred Olsen, MSC Cruises, Holland America, Azamara Club Cruises, Voyages of Discovery and P&O.