Date, Region, Line & Ship:


(last updated
Dec 10 2013 10:07AM)
Cruises from Rome

If you're interested in a romantic fly-cruise holiday, why not speak to one of our Cruise Experts about the great Cruises From Rome that are available to you today?

Need some ideas for Rome shore excursions? Click here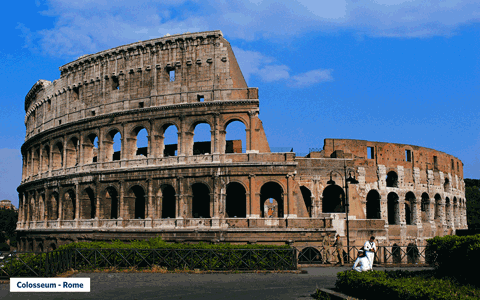 Home of the Colossuem, Catacombs and Forum, Rome is a city immersed in history. Officially a World Heritage sight, Rome is an architectural and cultural delight. Full of rustic charm, Italian elegance and tradition - Rome is the perfect destination to begin your cruise.

Rome, known as The Eternal City, is built on seven hills, so make sure you pack your trainers and prepare for a journey of discovery. The city will captivate you and enchant you - showing you a side of the modern world that has been preserved in cultural glory. Ensure your camera battery is charged to the maximum and prepare to be swept away by the Italian lifestyle.

Are you a fan of Italian food? There's no better place to enjoy some succulent pasta and a cool, crisp glass of the finest Pinot Grigio than the streets of Rome. Whether you head to the city centre, or a back street restaurant, you're sure to find a meal to make your mouth water.

Our cruises from Rome travel across the Mediterranean, taking in the breathtaking sights of endless blue ocean, clear skies and incredible landscapes. Coupled with a trip to the city itself, cruises from Rome are perfect for single cruisers, couples and families.

There are 2 airports in Rome: Leonardo da Vinci (also known as Fiumicino Airport) or Ciampino Airport. The airports are about 1 hour from the port (the port is called Civitavecchia) and 30mins into central Rome. If you purchase flights and a cruise you will also be met at the airport by a cruise line representative who will transfer you to the port and back.

If you only want to purchase the cruise and make your own flight arrangements - this is fine too as there are many low-cost airlines that you may wish to consider flying with.

Staying in Rome before or after your cruise: many of the cruise lines offer hotels that you can stay in. Or you can purchase the cruise from us and book the flights and hotel yourselves - there are many choices which you discuss with your Cruise Consultant.

For more information about our Cruises from Rome, or to book your cruise holiday for 2011, speak to one of our Cruise Experts today.