Date, Region, Line & Ship:


(last updated
Dec 10 2013 10:07AM)

Cruising the Baltic Sea offers great opportunities to visit countries in Northern Europe as well as Germany and Poland. The Baltic Sea is bounded by the Scandinavian Peninsula, the mainland of Europe, and the Danish islands.

Need some ideas for shore excursions on your Baltic cruise? Click here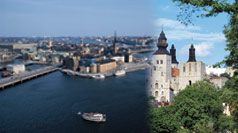 The Baltic Sea tends to freeze over in the winter so cruising is limited to the summer months. Princess Cruises, Holland America and Celebrity Cruises all offer fantastic itineraries around to area.

A must see destination on a Baltic Cruise is St. Petersburg. Many cruises feature an overnight stay in this historic city giving you the opportunity to fully appreciate the culture and beauty of the city. A trip to the Mariinsky Theater to see a breath taking opera or ballet performance should be on everyone's To Do list.

Other ports of call include Stockholm, Helsinki, Tallinn and Copenhagen.