Write a Cruise Review
and receive a FREE
Berlitz Guide to Cruising worth £17.99!
Top Rated Photos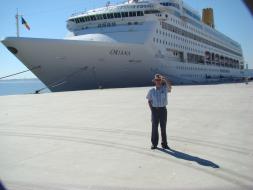 View more or submit your own cruise photos
159,160 Opinions
P&O losing standards
P&O Cruises / Adonia /
INDIAN OCEAN
By Walker, Humberston on 6th Mar 2014
We have recently returned for a cruise on ADONIA with P&O, what a disappointment. We spent a few days prior to the cruise in Dubai, which was lovely, and other ports were equally good, but no thanks to P&O...
Read More >>
457 Views
9 of 24 found this useful

Wonderful Holiday on Ventura
P&O Cruises / Ventura /
CARIBBEAN
By Upham, Saundersfoot on 6th Mar 2014
Ventura Cruise in the Caribbean, February 15th for two weeks. Waving goodbye to our cases at Gatwick and seeing them outside our cabin on board was a joy in itself. From the very start of our cruise we knew that we were in for a great holiday...
Read More >>
184 Views
5 of 6 found this useful

View more latest reviews