Write a Cruise Review
and receive a FREE
Berlitz Guide to Cruising worth £17.99!
Top Rated Photos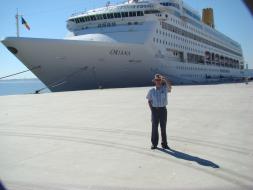 View more or submit your own cruise photos
159,163 Opinions
A Glorious Cruise on the Adventure of the Seas
Royal Caribbean Cruises / Adventure of the Seas /
MEDITERRANEAN
By Haigh, Holmfirth on 7th Mar 2014
Cannot fault the beautiful Adventure of the Seas ship which really had the WOW factor! There was an internal promenade which had beautiful shops and cafes and even a classic car parked on it! There was lots of chrome and glass everywhere which was kept...
Read More >>
27 Views
2 of 2 found this useful

Asian Allure, Celebrity Millennium
Celebrity Cruises / Millenium /
FAR EAST
By Johnson, Wimborne on 7th Mar 2014
We have just returned from our Far East cruise on Celebrity Millennium. We flew to Singapore and had three nights in the Swissotel, The Stamford and can recommend this for its position, its service and its quality. We arrived at check in at 11...
Read More >>
36 Views

View more latest reviews