Write a Cruise Review
and receive a FREE
Berlitz Guide to Cruising worth £17.99!
Top Rated Photos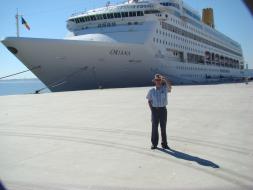 View more or submit your own cruise photos
159,240 Opinions
Canaries in february
P&O Cruises / Oriana /
CANARIES
By Levesley, Ormesby st margaret on 10th Mar 2014
We have recently returned from a two week cruise on Oriana going to the Canaries. Although we experienced a few problems during the holiday I must say we had a fantastic time. The weather was against us from the off and we spoiled our long standing record of...
Read More >>
0 Views

P and O Ventura 14th Feb.
P&O Cruises / Ventura /
CARIBBEAN
By Chester, Featherstone on 10th Mar 2014
Just returned from a two week cruise Caribbean on the Ventura. This was my third cruise with P and O on the Ventura / Azura but my partner was a cruise virgin and was a bit apprehensive about what to expect...
Read More >>
105 Views
2 of 2 found this useful

View more latest reviews