Write a Cruise Review
and receive a FREE
Berlitz Guide to Cruising worth £17.99!
New Photos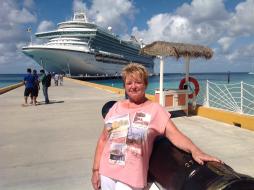 View more or submit your own cruise photos
159,279 Opinions
Beautiful Scenery , relaxing family cruise
Princess Cruises / Crown Princess /
NORWEGIAN FJORDS
By BARNETT, Taunton on 11th Mar 2014
Fantastic cruise as usual with Princess. Standards have dropped slightly, a few cut backs noted, but only things that didn't really affect the cruise. Food good slightly smaller portions and not as expensive products used...
Read More >>
103 Views
1 of 2 found this useful

Arcadia Rediscovered
P&O Cruises / Arcadia /
MEDITERRANEAN
By Rondell, BEDFORD on 11th Mar 2014
My wife and I last cruised on Arcadia on her maiden trans Atlantic crossing in 2005 and decided then that we did not like Arcadia, no atrium to give the ship a focal point, odd carpets all over, a strange cabin where all doors seemed to open on to each other...
Read More >>
373 Views
7 of 9 found this useful

View more latest reviews