Write a Cruise Review
and receive a FREE
Berlitz Guide to Cruising worth £17.99!
New Photos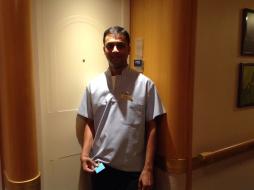 View more or submit your own cruise photos
159,189 Opinions
Great Med Cruise Aboard The Norwegian Spirit
NCL Cruises / Norwegian Spirit /
MEDITERRANEAN
By Gallagher, West Wickham on 8th Mar 2014
We had sailed on the MS Windward in Alaska on our honeymoon in 1996, so last year we decided to take our teenage sons on a cruise around the Med and weren't disappointed. The ship seemed enormous to us, but I know it is one of the smaller vessels...
Read More >>
7 Views

Small but friendly great food.
Voyages of Discovery / MV Voyager /
AUSTRALASIA
By ORFORD, BROMSGROVE on 8th Mar 2014
We had a very nice time aboard this vessel,it is the smallest ship we have sailed on so were a little apprehensive,but there was no need to have been.This ship is fairly old which is obvious in places and is nothing like the big modern liners of today...
Read More >>
58 Views
1 of 2 found this useful

View more latest reviews