Write a Cruise Review
and receive a FREE
Berlitz Guide to Cruising worth £17.99!
Top Rated Photos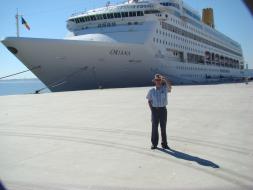 View more or submit your own cruise photos
159,220 Opinions
Birthday celebrations on the Oriana
P&O Cruises / Oriana /
NORWEGIAN FJORDS
By Ketteringham, Basingstoke on 8th Mar 2014
We chose this cruise because both my husband and our friend Gloria were both aged 70 during the cruise. 4 days apart. The dining staff really looked after them for their special occasion. All 4 of us had a lovely time and were impressed by the cabins and the...
Read More >>
252 Views
3 of 8 found this useful

Not Quite According to Plan!
P&O Cruises / Oriana /
CANARIES
By Lomax, Milton Keynes on 7th Mar 2014
We set out, heading into the storms coming from the Atlantic, in mid-February, heading for the Canaries. Our first trip on the Oriana, and, indeed, with P&O, although we have taken many cruises with other companies in the past...
Read More >>
463 Views
9 of 11 found this useful

View more latest reviews