Write a Cruise Review
and receive a FREE
Berlitz Guide to Cruising worth £17.99!
Top Rated Photos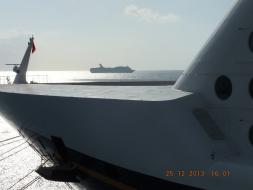 View more or submit your own cruise photos
159,249 Opinions
Costa Serena does not cater for the English.
Costa Cruises / Costa Serena /
Europe
By mackle, blackpool on 23rd Feb 2014
Just come back from a week on the Serena. We have been with 4 other cruise companies and this was the worst. We got the week really cheap so were not expecting too much, we have enjoyed the week but would not choose Costa again...
Read More >>
3618 Views
20 of 32 found this useful

The Black Sea & Greek Islands
Costa Cruises / Costa Deliziosa /
MEDITERRANEAN
By Turp, Colchester on 21st Feb 2014
Well my wife and I went on the Black sea cruise with Costa for several reasons, one being that hardly any cruise line does this destination, even this cruise web site does not list the place. So what was it all like, this was our 2nd time on Costa so we...
Read More >>
350 Views
10 of 14 found this useful

View more latest reviews