Write a Cruise Review
and receive a FREE
Berlitz Guide to Cruising worth £17.99!
Top Rated Photos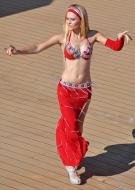 View more or submit your own cruise photos
159,278 Opinions
A great party cruise
Celebrity Cruises / Constellation /
MINI CRUISES
By Cohen, Harrow on 17th Jan 2014
Leaving from Ft Lauderdale we had a very easy embarkation. It was very well organised and the port team were polite and friendly. Once we were on board we had a wait till our cabins were ready but this is probably our fault for getting there very early rather...
Read More >>
196 Views
8 of 8 found this useful

Worst ever cruise!
Celebrity Cruises / Constellation /
CARIBBEAN
By McConnell, London on 12th Jan 2014
Having done 70+ cruises, I thought I'd try Celebrity - we'll never again for me. This was a 4 night cruise, so I expected it to be party style, but not Carnival Cruises style! Celebrity is supposed to be of a higher standard to is sister compact Royal...
Read More >>
525 Views
4 of 8 found this useful

View more latest reviews