Write a Cruise Review
and receive a FREE
Berlitz Guide to Cruising worth £17.99!
Top Rated Photos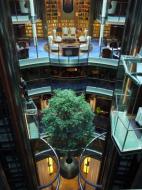 View more or submit your own cruise photos
159,168 Opinions
Voyage to Iceland and Norway on Celebity Eclipse.
Celebrity Cruises / Celebrity Eclipse /
NORTHERN EUROPE
By Knapman, Alverstoke on 20th Feb 2014
From the moment we joined our superb ship in Southampton we knew we were in for a relaxing luxurious cruise. We travelled out to Iceland with 2 ports of call. En route we had top-rate entertainment and mouth-watering meals at our table for 2 in the elegant...
Read More >>
343 Views
6 of 8 found this useful

Celebrity continue to Eclipse the competition
Celebrity Cruises / Celebrity Eclipse /
CARIBBEAN
By Donnelly, Durham on 19th Feb 2014
This was our second time on Celebrity Eclipse with an eagerness and hopefulness that the experience would be just as good the second time around. Thankfully the main aspects of what most people are looking for in a cruise (other than the obvious ports of...
Read More >>
3016 Views
51 of 54 found this useful

View more latest reviews